Ischgl - Relax if you can... Indeed!
Hazel Butterfield
19 March 2017
When I was asked to check out what this resort has to offer, I popped over for a few (extremely packed) days and experienced as much as we could squeeze into our schedule. I see every trip as a potential experience, to find something new and get involved. Ischgl covers that deliciously. Let's break it down.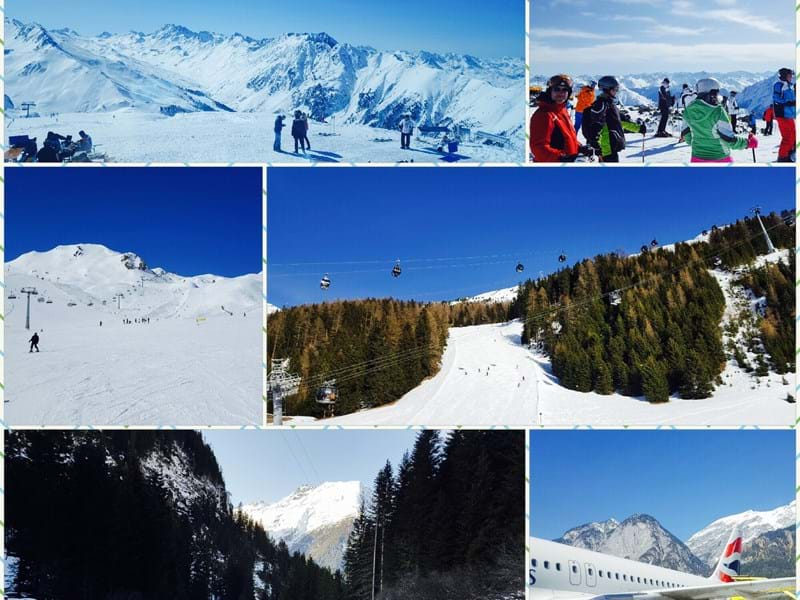 It started off interestingly with an 8.50am flight being delayed until 6.30pm, but we were told the night before so we could lie in. Great right? No! The flight got rescheduled back to the original flight time in the early hours. I found this out while all snuggly in bed at 7.15am - cue the Home Alone manic "we slept in" music. Out of the house within 10 mins. Only time would tell if I managed to pack everything I needed...
This was my first view off the plane, it's not bad is it? (Note - 1st forgotten item, a very needed pair of sunglasses)
Ischgl, an alpine resort in the Austrian Alps, a 100k journey from Innsbruck Airport. Alpen Taxi had us at our resort in 1hr 20, which I think is bloody brilliant. We arrive at our Hotel, Hotel Brigitte, where immediately they magic a pair of loaner Ray-bans out of nowhere.
The hotel is a 5 minute walk from the lifts and the Main Street, offers a Prosecco ready (- what more is needed!), trendy (but not painfully so), friendly and helpful atmosphere with excellent facilities. Swimming pool, wellness spa with 5 varieties of sauna plus the obligatory ice rooms etc. (Warning: enter armed with the knowledge that there will be willies flapping everywhere, you will be the odd one out coyly turning up in your bikini/costume/burkini).
Our dinner at Hotel Brigitte was a welcomed 5 course treat. Being a vegetarian, there are certain destinations that make little effort to offer a decent alternative to meat but I was pleasantly surprised and let's just appreciate this creation for a second: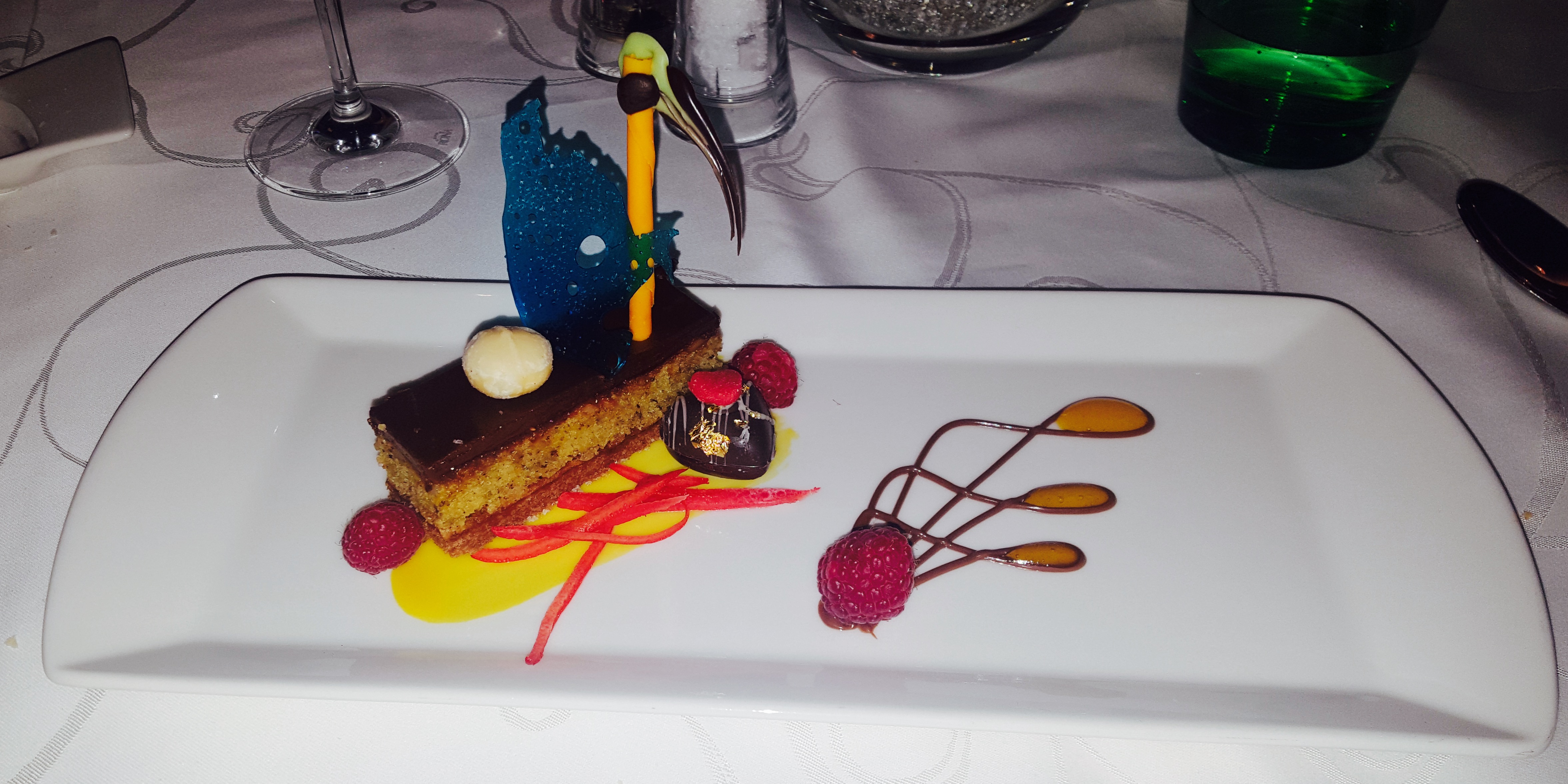 But this was just getting us started, Ischgl does food and it does it well. If you're a foodie, a real culinary experience is at the Trofana Royal. This dinner really was a work of art. Unique concoctions from the highly regarded Martin Sieberer, each course presented with an explanation of how the dish was inspired, creatively executed and resulting in some excellent Instagram food porn! Quite frankly, any amuse bouche without a spritz of mountain dew is just not worth my time. It was all Devine, beautifully and deliciously presented. One pure sign of just how remarkable this dining experience was, is my lack of pictures of each course. Each one so incredibly enticing, I wasn't willing to wait around for the 'perfect shot'. A truly memorable evening, which is saying something considering the amount of exquisite wine that accompanied each course.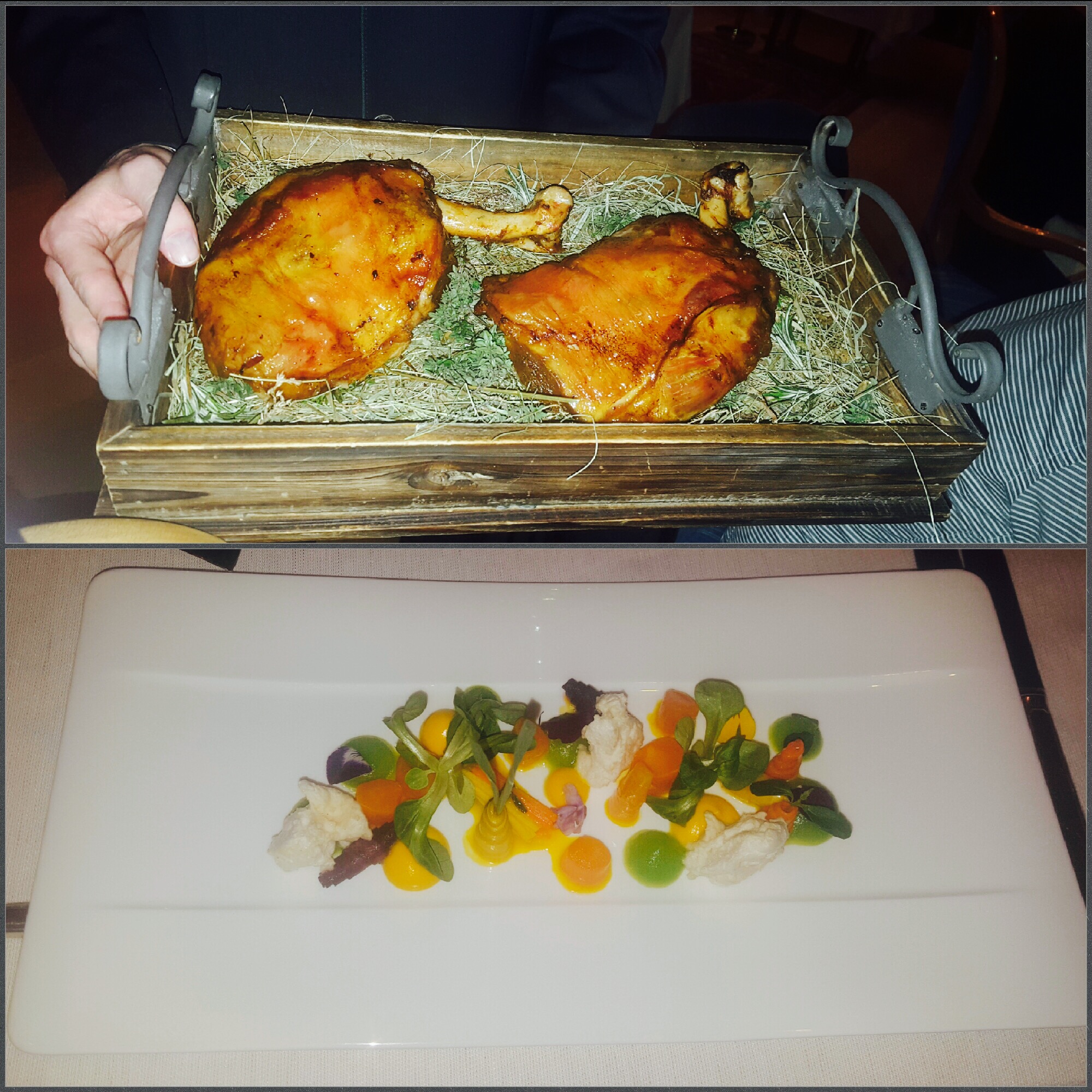 The Activities

I do ski, but it can be quite slow depending on the conditions and my 'mood'! I'm never going to be attacking the mountain like a pro, I've come to terms with that. However, I do love a ski trip and I feel Ischgl covers so many more angles for those that are less willing to hit the slopes 'running'. From luxury accommodation, incredible dining and in addition to the incredible skiing and snowboarding, a variety of alternative activities to get stuck into.

The Silvretta Gondola takes you up the mountain, whether you ski or not is up to you. Unlike many other resorts, Ischgl has an excellent mid mountain venue for all.
We started off our itinerary with Snow-shoeing. Basically, a snow shoe is a device you strap to your own walking shoes that has a wide surface and spikes in it to stop you slipping and sinking while hiking through the mountains. It's relatively safe, cheap to try and is such a good workout. I loved it. You actually get to take in the scenery around you and regardless of the conditions, you feet stay firmly where you put them! I'll be honest, I do think part of my enthusiasm for this activity was related to the instructor's dog which he brought along for the ride. After leaving my puppy at home, it was nice to get my fix.
Next on our hit list is good ol' fashioned Skiing as I hit the slopes with an instructor. Be warned, the Silvrettabahn can get very busy at rush hour. The wave of bobbing heads as the queue shuffles along (although quite funny, it's like a tidal wave of helmets as each time the crowd moves up) is similar to the crowds at Waterloo station on a Monday morning!
We get cracking and I get off to a good start by being told I can't be a part of the beginners group as I'm not that bad (woohoo). I term my level 'advanced beginner'. We ski on a variety of slopes that take us briefly into Switzerland (which always sounds good!) and then like any good instructor he (Mario) tries to push me to stray out of my comfort zone. I'm way too stubborn to be told what to do, but it's like he's come across people like me before (imagine that...) and he has me ditching my trusty snow-plough for a parallel ski turn that I'm convinced will kill me. It didn't, it actually worked rather well. He dutifully tolerated my colourful language and dodgy singing. He even got involved, which I soon realised was a distraction technique to have me reaching speeds higher than my delicate flower of a soul has ever reached - I realised this mid-sprint. Cue the creative language again. Cut to very soon after when we're sipping beer in the superbly situated Pandorama. I may have then offered up my seemingly clear lip-balm that was in fact colour changing, he took that in good spirits, once he realised what I'd done. I have to keep up the pretence that I'm retaliating to being taken out of said comfort zone, but we know that I loved it really.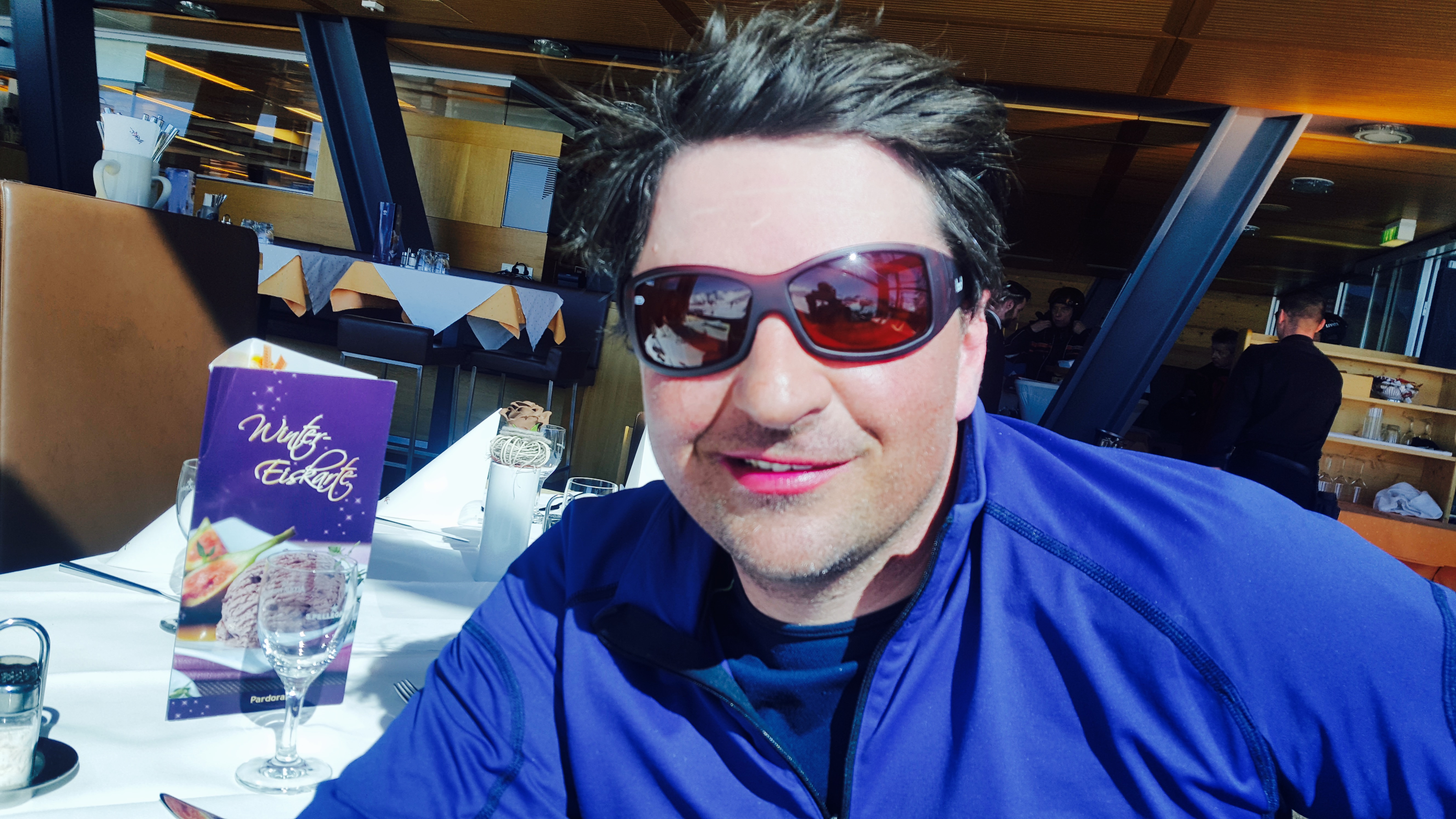 Despite my admission that I'm a slightly cautious skier, I am an adrenalin junkie. So the SkyFly was way up my alley (especially after an exhaustive ski lesson). A 3 stage zip-line travelling at speeds of up to 85km per hr in to the valley, starting at Silvrettabahn intermediate station and ending at Fimbabahn. There are 2 lines so you can go side by side with with someone if you choose to! They do strap your skis/board on to your back, so it can be part of your day's activities, you don't have to travel up specially. The Ischgl SkyFly is stupid fun and for sure, not to be missed.
For our 3rd day of activities we head out to Galtur, only a 10 minute taxi ride, with Ischgl Taxi & Galtur Taxi. There is also a regular bus service (every 5-10 mins) but involves a slightly longer commute. Galtur is the more child focused area with specifically devised areas/routes based on speciality and expertise. Lovingly and helpfully put together quite recently by one of the resort's instructors that we had for the day.
Here I try Cross Country skiing and I'm surprised how much I love it. I'm truly converted. Not only is the gear quite positively light in comparison to skiing but it's a fabulous workout: Calories burned...
400 - 500 calories per hour while skiing at 2.5 mph.
550 - 600 calories per hour while skiing at 4 - 5 mph.
600 - 650 calories per hour while skiing at 5 - 8 mph.
We covered 10k and yes there were a few falls for us beginners, but that's what Apres-Ski is for, self-medication. If you like the cross trainer at the gym, chances are you'll like this.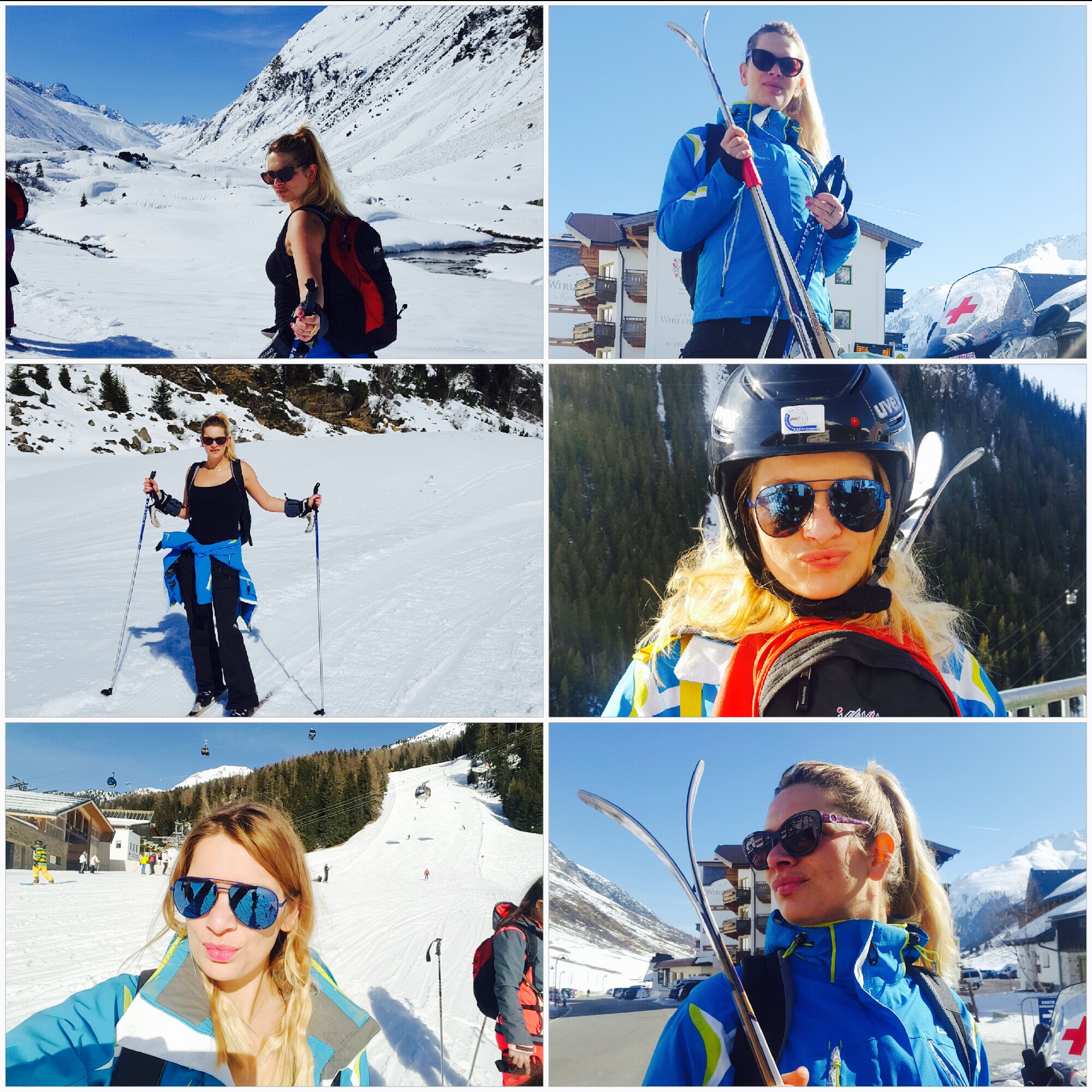 On the whole, Ischgl is predominantly adult focused but there were quite a few families there. Nearby Kappl and the aforementioned Galtur are more child orientated.
The concerts they put on for opening and closing the season, Jeez did you know how popular this location is? Elton John, Katy Perry, The Killers, Gossip... Imagine that amazing feeling you get while being on the slopes plus the emotion from a live concert, add in lashings of Apres-Ski. Sounds good, right?!
On our last night in Ischgl they very kindly put on a Demo show (see the youtube below) to show us (ok and all the other few hundred visitors) what they have to offer.
My little tips for skiing in Austria:
- Use a great facial sunblock like Clinique City Block 40 spf.
- Helmets. I have skied in many locations and I know that helmets are recommended, but up until now I've not worn one. It seemed to be too optional (stupid, I know), but this was the only place I've been to where everyone did wear one and it's definitely a good thing. Don't think about it, just get a helmet on.
- Take a gym bra.
- Drawstring/elasticated salopettes are the way forward, trust me, you'll appreciate this advice after seeing the food they offer.

Quote of the day. "I'm a conformist... when it comes to drink."
The Ischgl Demo Show Finale.
Useful websites and contacts -
Tourist information - www.paznaun-ischgl.com
Where to drag - Hotel Brigitte
How to get about/transfers - Taxis
Ski School - http://www.skischule-ischgl.at/
Previous Travel Blogs:
FANCY A QUICK TRIP TO DUBAI? WHY THE DEVIL NOT.
For more pictures, check out my Instagram feed.