St Jacob's Way - Hiking through Austria & Switzerland
Hazel Butterfield
19 July 2017
The Jakobsweg as its known in them there mountains, is back and this year's selection of Europe's finest chefs have their signature dishes ready to greet you in their respective huts nestled away amidst the great mountainous Austrian backdrop. Food, fitness and awe-inspiring views.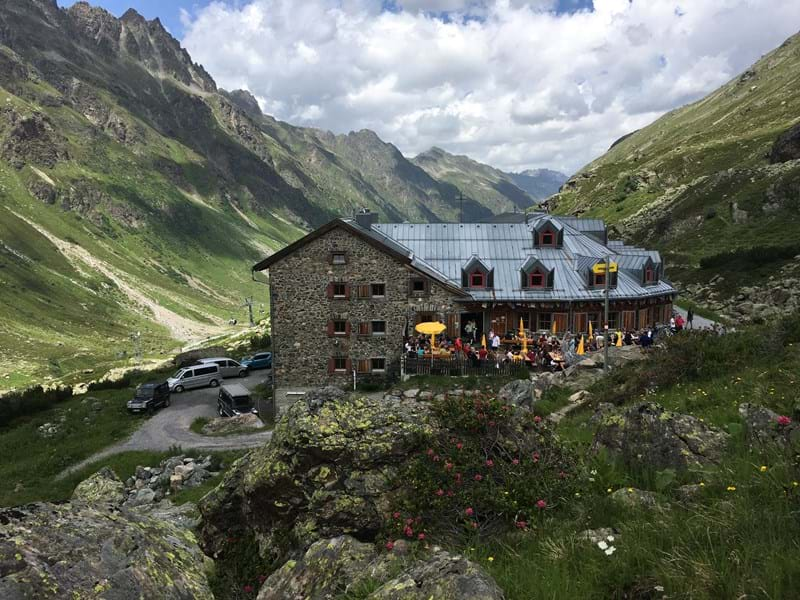 Firstly, lets find out a bit more about who we have for 2017:
Jamtal Lodge, Galtur - Simon Hulstone (Great Britain)
Neiderelbe Lodge, Kappl - Frederic Morel (Germany)
Heidelberger Lodge, Ischgl - Jacob Jan Boerma (Netherlands)
Ascher Lodge, See - Dieter Koschina (Portugal)
Friedrichshafener Lodge, Ischgl - Konstantinos Filippou (Austria)
For further details on the chef's and this year's dishes, click here.
What to look forward to?
Quite frankly the whole Jakobsweg concept really ticked the boxes for me. Excellent food in a variety of mountain locations that required an incredible hiking trek to help you earn your feast whilst being surrounded by some of the most beautiful surroundings. You then get to once again earn your evening's meal on the return, of which Ischgl has some unbelievably delicious and creative restaurants that just constantly wowed and intrigued me. They say being a vegetarian in the mountains is unworkable but that just isn't the case I ate superb food.
Details of the St Jacob's Culinary Way:
A selection of Europe's finest chefs cooking their own signature dish amidst the great Austrian backdrop (while weaving in and out of Switzerland). Approx 800,000 people will come each summer for the Jakobsweg of which, at least 700,00 hike or bike. Dependant on your fitness level, there are options to increase your hike, grab an Alpentaxi for all or part of the way or if you are that way inclined, helicopter!
Once the Jakobsweg season has kicked off and the chefs premiere their dish, each of the lodges' chefs learn the signature dish which is then done throughout the summer until mid September. As a rule, the guest chefs are changed each year, so no year is the same.
Simon Hulstone is the 4th UK chef to take part in the Culinary Jakobsweg, which is the creation of the Gault Millau Chef of The Century Eckart Witzigmann and Austria Chef of the Year Martin Sieberer.
Martin may be Austrian culinary royalty but he was also our gallant hero. The mountains are notoriously interchangeable weather wise and during our second day of the Jakobsweg kick off, after an excellent 10k hike up to the Heidelberger Lodge. Experiencing marmot's, wild horses and mountain cows; the gates of hell opened during the descent. A storm in the mountains is a magnificent sight but it can also be something that needs to be treated with respect. My only protection from the indecisive alpine weather was a recently (& randomly) liberated cagoule that was vaguely shower proof and it took a battering. Until Martin Sieberer spotted me and my rather equally drowned friend, waved down a family in a pick-up and politely and assertively got us a lift off the mountain. Bravo.
Simon Hulstone 
Luckily, we got the chance to catch up with the chef's during the launch of this year's Jacobsweg and getting to know more about Simon was an absolute pleasure. To meet a chef of his level who was ego-less was refreshing. I also love a good discussion with a chef of his calibre on vegetarianism (myself being one), especially as he has gone down the farm route to try and be as self sustainable as possible in terms of acquiring his produce. A keen forager, Herbs feature strongly in his and wife, Katy's lives as their daughters are named after herbs, Tansy, aged 11, Cicely, nine and five-year-old Betony.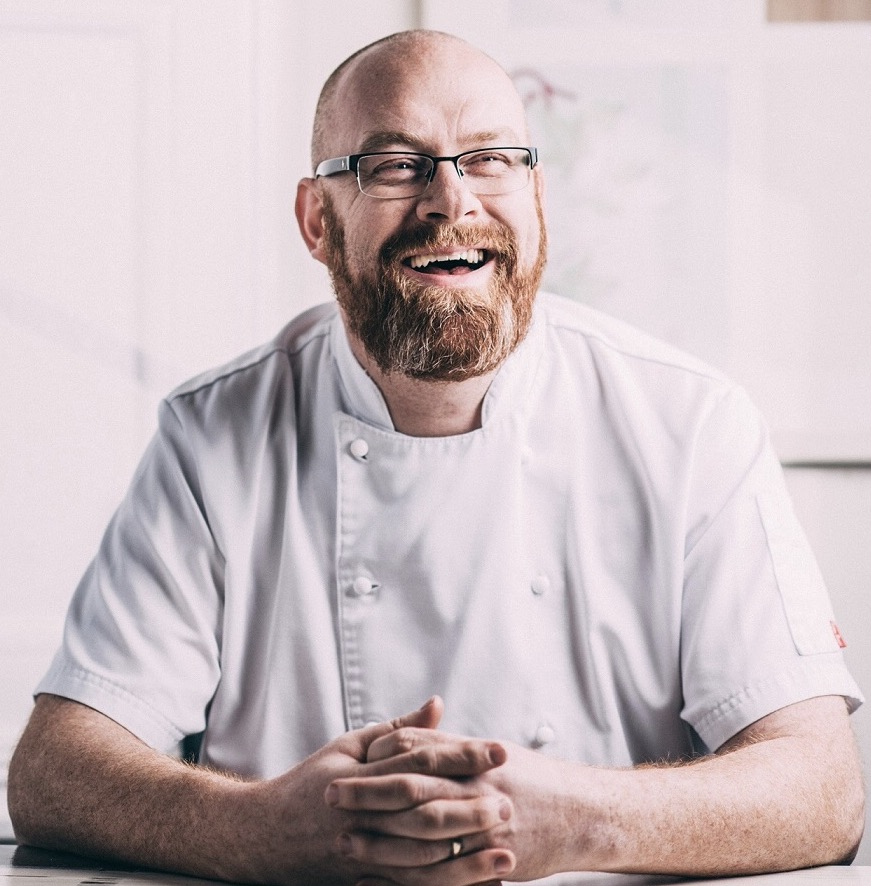 He has excellent vegetarian options in the Michelin-starred south coast restaurant of The Elephant and points out why there aren't any options for meat eaters attending a vegetarian restaurant..?! I love a good debate! We then move on to Chef gossip, culinary tours (very rock & roll) and the obligatory comfort food confirmed as being Frosties with full fat milk.
Simon is one of the UK's most decorated chefs and is indeed in demand for unique ventures - Of which something exciting to look forward to in London is on the cards, I'll update you when I'm told I'm allowed to.

On the weekend of 8-9 July, Simon went to 2,165m for the launch of the programme, and from then his dish of braised pigs cheeks with creamed celeriac will be the summer lunchtime special at the Jamtalhütte lodge in the mountains above Galtür. The lodge is one of five on the ancient pilgrims' path of Jakobsweg as it crosses the Silvretta mountain range of The Alps and is used by hikers and bikers all summer long.
Important note for vegetarians
Granted, on the Jakobsweg the meals were meat focused and some chefs were more obliging than others to adapt their signature summer dish. Being a vegetarian in the mountains is seen as being quite a dubious concept but you will be fed! Please don't say you're a flexitarian, it will just confuse matters and make their blood boil. Pick a side and stick with it!
Silveretta Card
Holidaymakers can visit each of the five lodges when staying in any of the Paznaun villages of Ischgl, Galtür, Kappl and See by using the all-inclusive Silvretta card which gives guests free and unlimited use of cablecars, chairlifts, buses and other facilities. Use the accommodation search facility on www.paznaun-ischgl.com to book from a range of properties from simple b&b to 5* luxury.
Where to stay
Hotel Goldener Adler - summer breaks start from €574 per person for a double room.
A beautiful boutique hotel centrally located in Ischgl with deliciously friendly staff serving excellently traditional food, with dreamy spa and relaxation facilities.
Other places to eat
Hotel Silvretta, this chic and modern Austrian restaurant was quite frankly the best meal I've had in a long time.
Hotel Trofana Royale, pure indulgence in a kitchen headed up by Martin Sieberer.
Getting there
Swiss Air fly LHR - Zurich from £84
Alpentaxi will take you the remainder of the way (2-3 hours weather dependant).