Watch the programmes that reflect what you need mentally.
Hazel Butterfield
19 February 2018
Need a new box-set but still trying to get over where you head went during watching Black mirror? Maybe you need to give your sense of humour and jolly side a kickstart...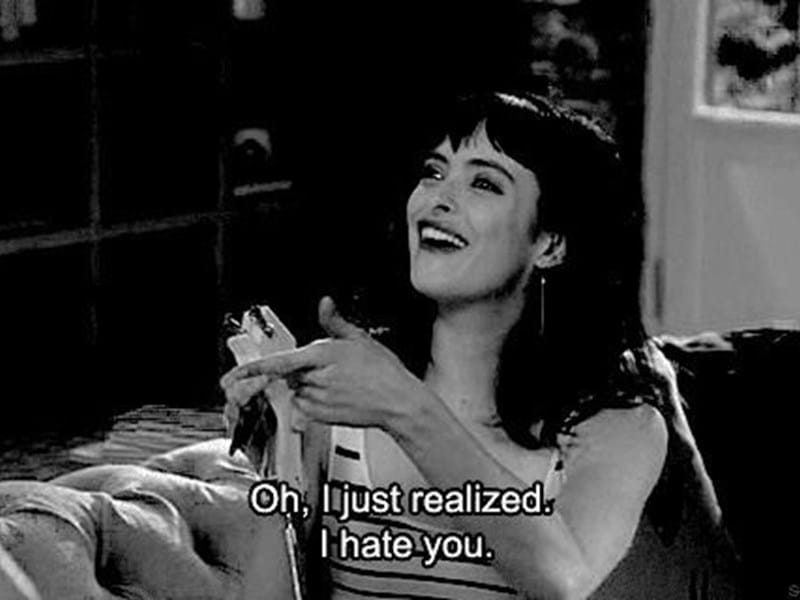 Binge watching telly is not always a bad thing, it can help you gain what you need psychologically, to attack your day/life. Stick with me on this... When I find a series that I love, I absorb it. The humour, their wit (often rudeness), fashion style, their aspirations, all of it. Let their aura seep in and spur you on...
It is obviously escape and gives you a time and space to be calm, this does not happen with the likes of Black Mirror or The Walking Dead. A chance to switch off and give yourself and your brain something else to obsess about. The silliness of these programmes is infectious.
If you're down, the last thing you need is to watch 13 Reasons Why. What you need is fun, stupidity and lighthearted snippets of realism.
Here are my picks of what to watch with their accompanying goal/underlying themes...
Don't Tell The B***c In Apt 23
This is ridiculously funny, starring James van der Beek (the bitch in Apt 23's sidekick) as himself portraying a very acerbic and self involved version of who he is and what makes him tick. Brutally funny, unapologetic and riddled with interesting characters all flawed and brilliant, all at the same time, making mistakes and getting past them (or learning to no longer care by distraction). Mixed in with great bitchy lines to add to your arsenal, just in case they are needed...
Great for: Learning to give less of a shit about other people, needing a giggle, Friendship goals.
The Crazy Ex-Girlfriend
It's a musical series like no other. Before your eyes roll back into your head in derision, just hear me out. Here are a few of the series' popular musical numbers:
* Let's have intercourse
* It's not difficult to define Miss Douche
* I have a UTI
* We tapped that ass
* You stupid bitch....
For more, check out here:
The lead character, Rebecca Bunch, is bright, the fascination of many and shock/horror not a size 10 or below. Also, despite where some of these storylines go and what happens in this series, it is played out by some seriously talented (and not particularly well known actors), they can actually sing and dance. Think Glee but with more gross humour and people playing the ages they actually are!
Great for: Mental Illness appreciation, friendship, introspective self obsession.
The Unbreakable Kimmy Schmidt
In a nutshell, she was imprisoned by a psychopath/doomsday cult leader in a bunker who convinced her and 3 other fellow captures that the world has ended and they need to stay there to be safe. After 15 years or so they escape and discover this was not the case. Kimmy moves to New York to live a 'normal life' where she is not defined by the infamy of what happened to her. It is slapstick silliness based around being out of the loop for so long, a determination to see the best in people, selfishness, naivety and finding your way - with the wonderful Jane Krakow who always cracks me up.
Great for: Prioritising, Social Media fascination and appreciating simplicity.
The Good Place
This is about the place you go to when you die, determined by your time on earth and your actions. A philosophical and moral focused comedy that challenges what you class as a good person and their real contribution to society. How your actions have affected others whether it was intentional or not. But your 'place' is determined by your time on earth, the idea of heaven and hell are very personal and the way they portray this is clever and ridiculous all at the same time. Your score in the afterlife is based on many elements, even if you've ever eaten an egg salad sandwich on a busy and enclosed train. The ethics element was well incorporated and tied in quite interestingly due to one of the main character's specialisation on earth. The UK's own Jameela Jamil plays a socialite who's charitable contributions on earth are scrutinised in the afterworld with great name dropping silliness, along side other main characters Kristen Bell and Ted Danson.
Great for: Moral/philosophical dilemas, helping you see how you could be the best version of yourself, getting you thinking about humility and appreciating why eating egg or fish sandwiches on public transport is a sin.
Attitudes breed themselves, let's get involved with the #FeelGood movement. It's a bit like when you smile, even if you don't feel like it. It brightens your face and is infectious, before you know it, it's affecting you. Get involved with being happy.