My week of no carbs.
Hazel Butterfield
26 March 2017
I love carbs, I'd eat bread, potatoes and pasta in the same meal if the recipe was right. I get excited when I buy a fresh loaf and always keep dip in the fridge for crisp-o'clock. I don't even know if I've ever had such a hiatus from said food group. I have no faith in my ability to do this.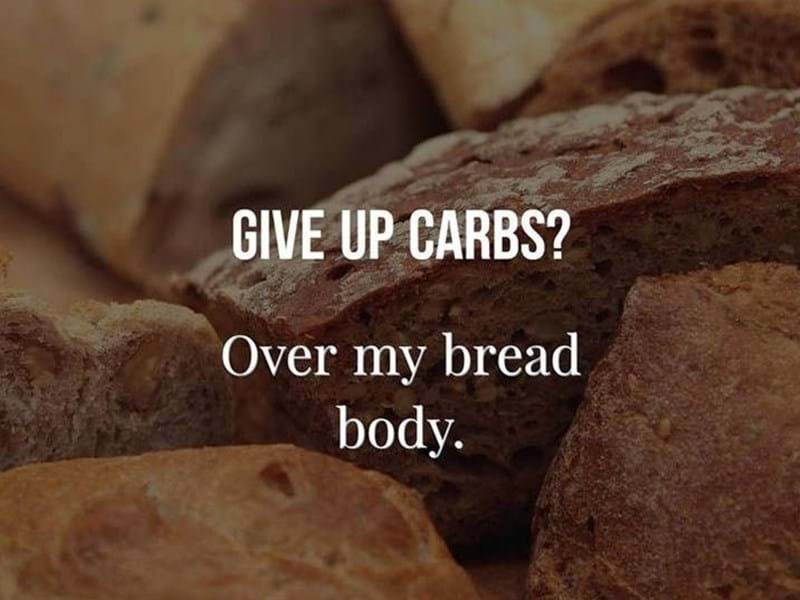 Why? I've been attempting to give my 'healthy living' routine a shake up for sometime now. Yes I workout regularly and adopt a Flexitarian lifestyle and do my 10k steps a day. I do like the odd glass (or 12) of fizz, desserts happen upon me regularly, but carbs are my Achilles' heel.

However, I damaged myself on a trip to Ischgl which rendered me unable workout, this is going to send my OCD and carb habit justification in to a right old tizz. I have to even things out. My challenge is born.
It starts on a Sunday... As the first few days pass, I'm impressed with myself for being creative with my snacks and hunger pangs. I even managed to cook the kids pizza and rosti without 'taxing' them before they reach their plate. This is a first. Soup, dried fruit and nuts become my friend, until my reserves run out. I ate a whole cucumber in one sitting, which I actually quite liked, but the week's veg ran out much quicker than usual. When you're in a rush it's so much easier to grab a bag of crisps, especially when you've already cleared out your cupboards of non-carb snacks. But Pinterest and Instagram really do come good on this kind of tomfoolery.
I do also think it helps that my damaged coccyx means I'm not comfy sitting on the sofa so I'm therefore going to bed a bit earlier most evenings, so the late evening snack is not required, but I can't spend my week hiding in my room from carbs, that's not cool.
However, just as I get to 5 days in - I'm feeling better, less sluggish and not guilty about my lack of exercise. I feel less 'flabby' and the self righteous feeling of achievement isn't doing me any harm either. I'm starting to enjoy the challenge, being creative with my meals. But then the real challenge arises, drinks with the girls with the inevitable crisps and dip - "oh crap, well at least I got to Friday". But no, I didn't put the pressure on my self and accepted that I'd done well getting thus far and a whole cucumber dipped in BBQ sauce later (don't judge unless you've tried it) I have managed to distract my self enough to let them polish off the crisps before I got too tipsy to care. Result. But then the next challenge as a byproduct comes along. My standard response to a hangover is to eat my body weight in carbs. I'm so close to completing a week that I'm keen to find a workaround. Where do you go in London when you need a fix of good healthy (or at least non-carb) food?
So of course, I hop on the bus to Wholefoods and attack the salad bar like a demented loon and it gives me the fix I need. I swing past Duck Pond Market on the way back home, purely through habit, which is like a food porn gallery. But alas, someone is looking on me kindly, I pass a dessert stall that is not only carb free, but sugar, egg and gluten free too AND it doesn't taste like mungo bean infused cardboard. It's actually freakin delicious. Bravo me.
Needless to say (and yet I do), I complete my week and as I'm writing this in a bakehouse cafe no less (a cafe that provides solely dough based produce for clarification). I order brunch and choose to give the dog my sourdough toast.
I'm concerned that as soon as carb is consumed, my animalistic urges will return. That or I have temporarily turned into an anti-carb fool.