I Heart NYC.
Hazel Butterfield
27 August 2016
I've been to NYC a few times, stayed in different areas and styles of accommodation. Gone on my own, with friends and with man-thing. Summer and winter. Young and not as young. Skinted and also with a blatant disregard for sensible spending. If you've never been, fancy getting a different perspective or are just nosy, have a read.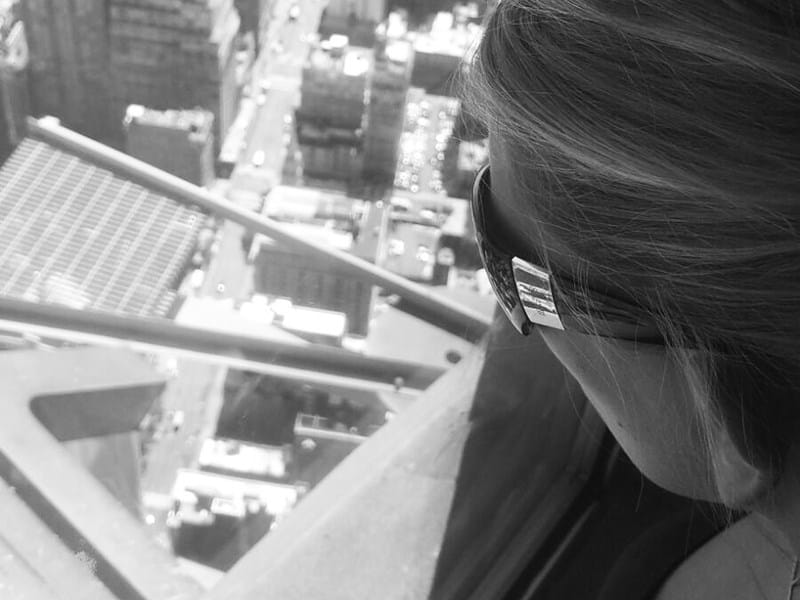 In the summer, without a doubt, the best way to get around is by bike. I cannot express enough how great it is, you move quicker than most cars/taxis, which also means if you are a bit of a nervous road rider and you need to move away from the cycle routes, you don't have to worry about cars passing you too closely. They are easy to rent (just like Boris bikes) and for $12 you have unlimited usage for 24 hours. You can see so much more, cover so much ground and it is unbelievably safe. Even when you're not on one of their amazing cycle paths and navigating the roads with the traffic. It's all good. There is an incredible cycle and walkway path on the west side along the Hudson River that quite frankly is a revelation. Not like a New York I've ever witnessed before. Rollerbladers, runners, walkers and cyclists in a green and smooth environment. It's designed in a way so very few opportunities arise for you to need to stop, it takes you quite nicely down to Battery Park and the Staten Island Ferry.
Food is a big part of NYC. There are amazing places to suit all budgets, but if like me you like to pretend that 'being on a budget' is a myth, please try Beauty & Essex . Hidden at the back of a pawn shop is the most opulently designed restaurant that is pure bliss. Service, food, cocktails, oh and OMG the toilets - immense. They have a prosecco attendant (not a bar, it's gratis) they are just making sure you stay topped up while doing your make-up or helping a friend tie up the catches on her jumpsuit. So if Lobster Tacos and Pickled Peach & Buratta on Toast floats your boat, do it. It'll also make you look like you are in the know, it's a hidden gem.

Also try these, I've done La Esquina a few times and it's always fun, if not just for the way they take you to get to your table, but don't worry, the food, drink and decor is 'awesome' too.
Now, this is a bit random, but the Samsung Flagship store (you can't buy anything) is unmissable. Unless you hate technology and fun. It's packed with (free) experiences from Virtual Reality helicopter rides and rollercoaster, photo booths like you've never experienced, 360 photos and an Instagram experience that will blow your mind. Click here, it doesn't do it justice, but I'm trying. Assume to want to be there for at least an hour.
Chelsea Market is always worth a visit, as is the HighLine which is next to it. Make sure you go when you're hungry, everything looks incredible (yes I obsess over food but I defy you to try it and disagree), also most of the restaurants in the Meatpacking District have outdoor seating unlike the touristy dusty Mecca that is Midtown.
I didn't go to any comedy shows this time, it wasn't necessary with a sense of humour like mine, I can thoroughly entertain myself. But if you're not that way inclined and like others to do the work for you, try the Comedy Cellar.


Where to stay...
Well, for a start, some of you regular readers will know I love free shit. So a hotel with great bathroom products (L'Occitane) free nibbles by the pool (ice lollies and frozen grapes), free sun cream sachets (yes I took additionals) and detox water everywhere to keep you feeling like you're being good to your body. The Gansvoort in the Meatpacking District was my venue of choice this time. Fabulous location, perfectly appointed pool, the rooftop bar's roof comes off for the good weather, the staff are excellent AND there is a spa and gym, including exercise studio if you need your fix. My only slight annoyance was with the only 'OK' cocktails from the upstairs bars. But luckily, there are a delicious selection of bars in a 100ft vicinity that covered that. The Standard, Catch, Soho House (if you're a member, if you're not don't even try. You'll just feel embarrassed by failure).
An issue which I always battle with is appearing to be a 'tourist' and not getting onboard with the mentality, I like yo feel like 'local' BUT I really wanted was to find out which area Friends was based! (FYI, on the corner of Bedford and Grove Street in Greenwich Village) You're very welcome.
But the nightlife also didn't dissappoint. Every night is 'out out' night, especially in the Lower West Side. The street bars and rooftop bars are raring and the less touristy areas make for a more eclectic night. Get involved, get chatting. I think I did the Meatpacking District justice, I love waking up the next morning and you have selfies on your phone with random security men and email messages/Instagrams from people asking if you found a good bar to cause trouble in...
Tipping...
You tip for everything. Brits, we're not always onboard with this, but just imagine when dining out that there is an extra 18% on everything. It's not really optional in NYC like it can be in the UK. Assume at least a couple of dollars on top of taxi rides otherwise they may outright ask you for it!
Be in the audience of a live show...
I'll be honest, I didn't do this as its too much effort and time indoors in the day for me, I've been to other live recordings and they can be quite dull, unless it's Oprah and she's giving out new cars, but what use would I have for that?! But, if you do fancy it, try this site and make sure you check which need to be done weeks in advance (if not months) and also the day that they are released, they'll be gone in minutes. But if you fancy it:
Just a few of my favourites from Central Park, The Standard Hotel, Catch, Battery Park, etc, more on my Instagram.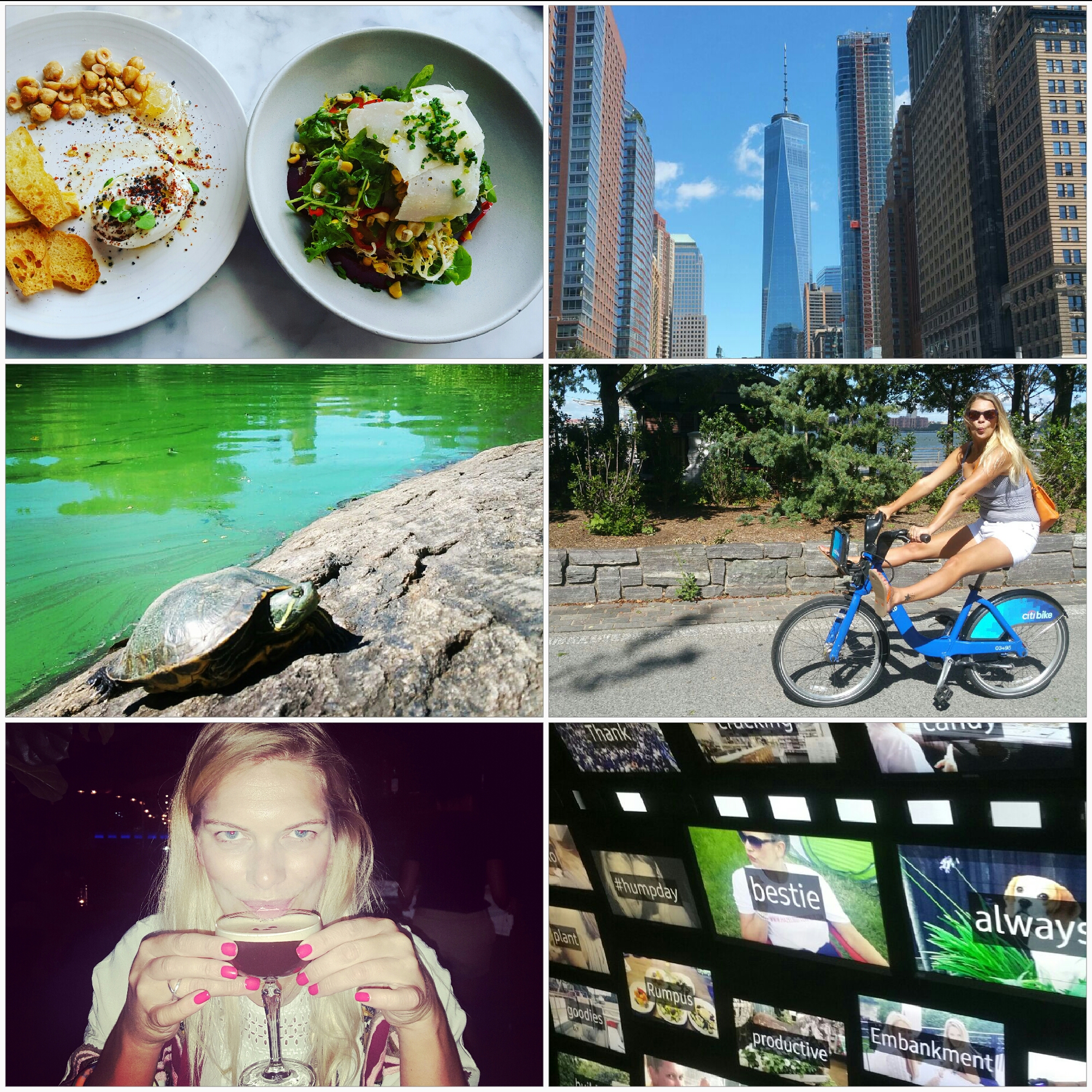 There are obviously squillions of ways to spend your days and nights in NYC, these are just a few of my tips.
Finally, getting to and from the airport...
This is a really good article on ways to get to and from JFK and Newark. But in summary a Yellow Taxi will cost you approx $52 and $60 respectively, in an Uber it will only be cheaper at off-peak times. Watch for surge pricing.