Strong Yet Feminine - The incredible collection that is Sally Lane Jewellery
Hazel Butterfield
24 June 2018
Gorgeous, fabulous, feminine, strong and bold designs. Jewellery that is unique, looks amazing and embodies an 'on point' message. Strength and femininity are subjective and no longer defined by archaic norms. We choose what we wear, why we wear it and how we wear it.
I was very lucky to get the chance to find out more about the woman behind the brand...
How did Sally Lane Jewellery start?
I had the first moment of realising what a true passion felt like, when I did a one-day jewellery course just for fun. Something lit up inside me and I remember thinking: 'Imagine how fun it would be if I could do this every day… some people do!' I gradually did more and more courses until I took the plunge and did a one-year diploma (every Sat while I was still working full time). I had to present a collection at the end of the course and as part of that I had been building the brand and logo, purely because of my background and my love of design (I don't think it was a necessary requisite looking back). I don't even remember at what point I decided to launch as a business but I recognised that throughout the course all my pieces had a unique and consistent feel and I had so many compliments when I wore them that it gave me the confidence to set up my website… and Sally Lane Jewellery was born.
What was your theory and reasoning behind the ethos of the brand?
My brand has evolved with me and my journey over the last few years. When I started I was still working in the corporate world; I found the jewellery incredibly empowering and wanted to share this feeling with women everywhere. I felt the pieces belied the strong character of the wearer, but were ultimately elegant, classy and feminine. We are so often told we must behave more like men if we want to succeed in business, but I had always felt it should be the other way around if we wanted corporations to make real progress. Women are often listening, observing and quietly making their moves and instead of making women feel that they should be trying to be something they might not be, by shouting and pushing, I want to say: actually you will succeed in a way that is brilliant and classy, on the merit of your work and your strong character. The workplace is changing to be more inclusive, to listen, to be empathetic and supportive and that is the way that it should be. More feminine traits, not more masculine traits.
Don't get me wrong, I have huge respect for the Sheryl Sandberg's of this world, but if you don't want to 'lean in' to a game where the rules have been set by people you have no assimilation with, then don't feel bad about it. Be true to who you are.
My jewellery and the brand celebrate succeeding because of feminine traits, which are strong in different ways, sometimes stronger.
I eventually found myself in a place where I felt so at odds with my true self, adapting to get along in an environment that I didn't believe in, that I was becoming depressed. It took huge courage to decide to leave my senior role, the regular salary and all the status that I had acquired over my 12 years in the industry to take time out and focus on me and what I really wanted in life. I was overwhelmed with happiness at having the freedom to choose what to do with my day, and to have so many new skills to learn.
Now the brand has evolved to also inspire women to take a look at their life and make sure that they are not sleep walking. That they are challenged, that they are working with like minded people and in an organisation that they believe in, and/or if they have a passion, to inspire them to pursue it.
Every piece of jewellery has meaning behind its name to remind the wearer of their strength.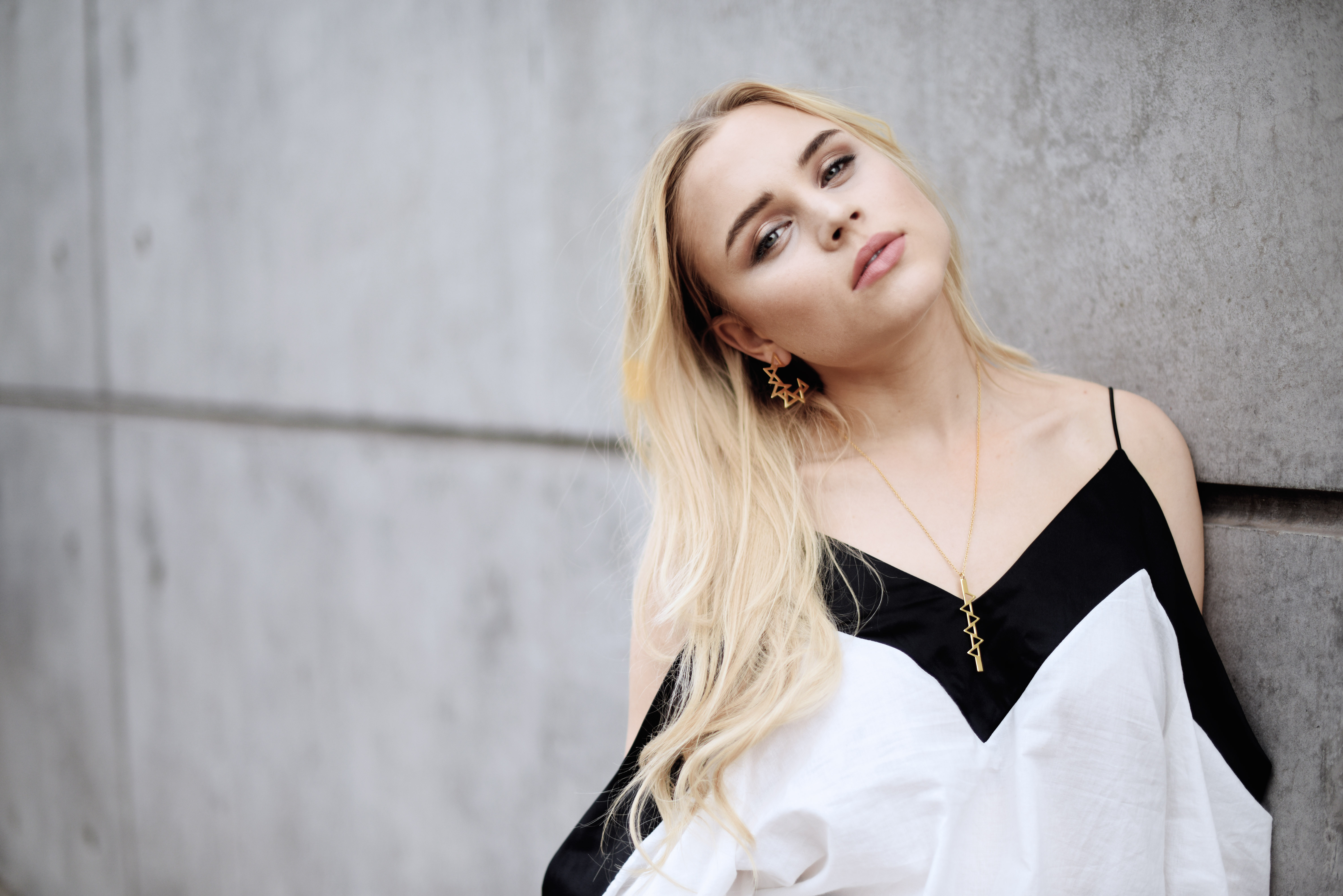 Where can we see you and your jewellery out and about?
My husband Liam and I love food, so we try to get out and sample as many of the new restaurants popping up that we can. A recent favourite is Lyle's in Shoreditch, which incidentally has a superb playlist. If we're not eating, we're dancing. I seem to find myself in Hackney, Peckham or Deptford for a night out these days. Usually a fairly underground club that not many people have heard of. We're off to a night held at 'Grow Tottenham' this weekend, for example. It's a community garden/allotment. I love partying outside and try to go to as many festivals over the summer as possible. 
You can also find me every Friday at One New Change, St Pauls, where I have a weekly pop-up 10-3. I will also be at the Northcote Rd Summer Fete on the 15th July so come and say hello!
Who would you most like to see wearing one of your pieces on the red carpet?
Emma Thompson. I think she is an absolute legend and completely embodies the Strong Yet Feminine ethos. Elegant and classy and not to be trifled with! I just loved her response to a question about the Royal wedding recently. Spot on.
What pieces of your own are you wearing constantly right now?
The Throwing Stars earrings and Ladder of Life ring are firm favourites as day wear, and normally the Beauty Within Earrings when I get dressed up. They are so versatile because you can change what you wear inside the cages. At the moment I am loving them with the pearl beading from my wedding inside.
I also tend to wear my new collections for a few months before I fully launch them. I like to test out the wearability, how many comments I get and the reaction at my pop-up. Currently this is the new 'Journey' collection and it has been getting a huge thumbs up so they will be coming online soon.
Who are your favourite jewellery designers?
I admire brands with a consistent feel and am most moved by sculptural and architectural designs. This tends to come from the Scandinavian designers more than most (and perhaps my Danish blood influences my design in this way); Sara Robertson, Kamilla Ruberg, Annie Berner have some great pieces.
When you're designing, what is your go-to brain food?
Oatcakes dipped in hummus with Siracha sauce. Liam turned me onto this and I am addicted!
One of the strong messages of your brand is 'Strong yet feminine', which I love. If you had to choose just three people that fit this description who would they be and why?
My friend, Vivienne Gamble because she took a risk to leave her career to go back to study and then start her own business (Seen Fifteen photography gallery), and it inspired me to do the same.
My sister Ellie, because she is absolutely rocking her corporate job while remaining true to her feminine character, plus she is adorned from head to toe in my jewellery!
If you want a celeb, which I suspect you do then Amal Clooney because she exudes femininity and class while absolutely bossing her job, fighting for what she believes in.
Who do you admire fashion wise?
I love a mix of Parisian chic with Berlin minimalism, and a little bit of London thrown in. Alexa Chung gets it so right and a blogger called Masha Sedgewick, whose Instagram, for me, is perfection. In terms of designers, I will always admire Jil Sander, not just for her designs, but for her absolute certainty about what she stood for.
When you go on holiday, what are your 3 must haves?
I can't possibly choose only 3!
Why not read their 'Strong Yet Feminine' profile interviews and find out about some more amazing women to celebrate...
RECEIVE 10% OFF YOUR FIRST ORDER - SIGN UP TO THE NEWSLETTER, BE INSPIRED BY STORIES FROM AMBITIOUS, STRONG YET FEMININE, WOMEN AND GET EXCLUSIVE OFFERS.