Get booked 2018
Hazel Butterfield
15 December 2018
Back in September of this year I started a new show at Women's Radio Station called 'Get Booked', which features all things book related; news, reviews, interviews and everything and anything to do with a love of books. Keeping you 'booked up'.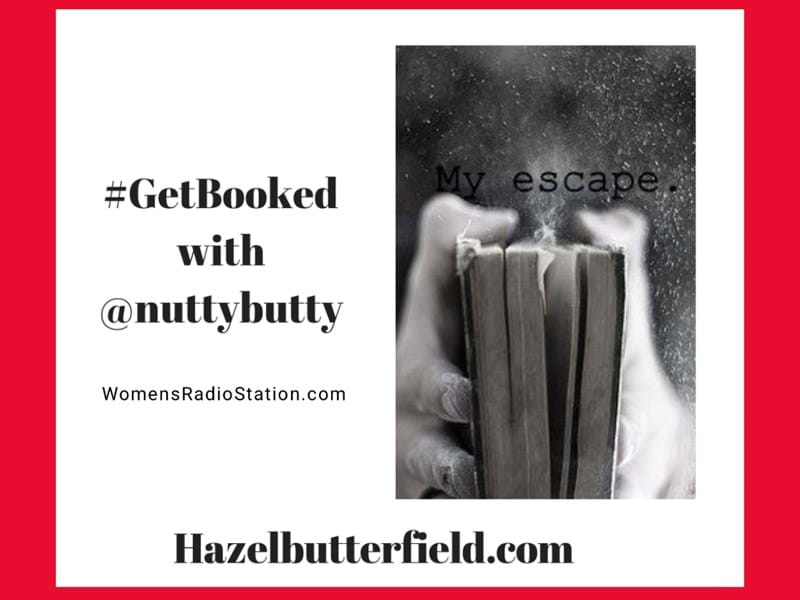 This show enables me to share with you the incredible books I have read, helping you to choose your next read. To hear about your favourite books that you have shared with me and to speak to some incredible authors about their writing journey, writing tips, methodology and generally have a really good ol' chat!
I have been overwhelmed by the response to the show and I can't wait to get cracking with 2019. The show is already booking up with some incredible authors and book lovers. Make sure you keep up to date by following the Instagram page GetBookedWRS and my twitter.
Here are some of the incredible author interviews that I got to do at Women's Radio Station over the last few months:
Eugenia Melian - Wildchilds
If you get the chance to meet Eugenia, grab it and be entranced by her effortlessly chic style, her knowledge and experience of the fashion world and encapsulating persona.
Wildchilds was a thrill to read and also took me on a cultural journey. A 'story' made up of 100% real events. Eugenia Melian takes us on a journey through the fashion world back in the 80's where the lifestyle of Sex, Drugs and Rock & Roll were aspired to and yet the reality for most was more abuse, dangerous pills to keep you thin, desperation and loneliness, doing what you can to stay in favour. Many succumbing to the pressure and being destroyed in the process. But a death of a lover from Iris' past forced her to re-visit those days, face her demons head on and find the right way through a very wrong situation.
Listen in to more on Wildchilds below.
Christine Clayfield - No Fourth River 
After meeting Christine (and wishing I could squeeze a few more hours in), I immediately could see why so many people wanted her to write her story and for Christine to share with us her strength of character. It was infectious and although the story she had to tell was not a 'happy' one, what she offered to us in telling us her story was invaluable.
No Fourth River is an autobiographical novel that reads like a thriller, but morphs into an inspirational tale of determination, grit, entrepreneurialism, love and positivity. If Christine can change her mindset and focus of productivity and success, so can we. She has had more than her fair share or misery, ridicule and quite frankly a shitty hand dealt to her, but what Christine Clayfield did with that hand is remarkable, her strength of character is incredible. We are not set in stone, we can change who we are, who we think we are and what we can achieve. It is not always going be easy but nothing worth it ever is.
"If my book - No Fourth River - can help just one person change their life then I have achieved my purpose of sharing my own story to save them a river of tears.  Through forgiveness I have let go of the pain in my life to make room for the love and success that we all deserve and can achieve" - Christine Clayfield
No Fourth River will be made into a film one day. Catch my radio interview with Christine here:
Teal Swan - The Anatomy Of Loneliness
There is just something about Teal Swan and words can't always do it justice which explains her vast following & extremely popular YouTube videos. This interview about her book 'The Anatomy Of Loneliness' won the listeners choice throughout Christmas at Women's Radio Station.
This is a woman that truly understands the multidimensional nature and intricacies of loneliness. Sometimes you meet someone and you feel like something just happened. All of us in the studio just were taken aback by her presence, insight and amazing hugs!
Listen here:
Amanda Robson - Obsession/Guilt
Amanda Robson is an author local to me who was brought to my attention by my podiatrist, mid corn removal. What an absolute delight to get the opportunity to chat to her in our London studio about her writing process, tips, the books Amanda loves and about 'what's next'...
I read her second novel, Guilt, the first being Obsession which is next on my list. Both of which are Times Bestsellers. 'Guilt' starts off with a woman admitting she has just murdered her sister to the police, over the phone, while standing over her. The story then goes through the stages that lead to this from the perspectives of those involved, then further goes on to the proceeding court case while she is tried for the murder of her sister. Guilty was a thrilling read which hooked you in by making the characters so infuriatingly flawed, their decisions, their reactions and vein attempts to be protective. But we are humans, it's what we do.
Listen to our radio chat here:
Jan McPeake - Transference 
Brace yourself, Jan is a true Glaswegian with all the wit, fierceness and determination you'd expect all wrapped up in wonderfully characterful Glaswegian accent. An absolute diamond!
Transference is a dystopian novel like no other, an un-putdownable thriller with a Scottish (Glaswegian) personable edge. A bit like if Kevin Bridges kept on popping up in the Handmaids Tale. 
If you're rich and in the inner circle, you're 'safe' so long as you can get the poor to give up their young to maintain your existence, due the public accepting your supremacy. Which is simpler than you think with the right spin doctors. Scarily so. Hello future; where paranoia, espionage, sibling rivalry and elitism meet love, dystopia and self realisation. 
Read the book, do the selfie and get involved.
Don't worry, when you read it and love it, I assure you, there's more to come...
I feel blessed to have the opportunity to do this show and meet the people I do, and I invite you to come along for the ride and be a part of the wonderful world of books! 
Get in touch at presenters@womensradiostation.com or hazel@hazelbutterfield.com if you want to be featured on Get Booked or have a book recommendation.
Listen to more of my 'Get Booked' shows here on Soundcloud. For bookstagram porn check out @GetBookedWRS and my website for even more book reviews.
"In the end, we all become stories" - make yours a story you're happy with