Meet Carl Chamberlain...
Hazel Butterfield
11 October 2017
What do you get when you cross a Radio Presenter, Compere, Doorman, Poet, Performer, avid charity supporter and 'contributor' to the #bodypositive movement (albeit not a great joke teller?!)? - All round good egg, Carl Chamberlain. That's what. Let's find out more: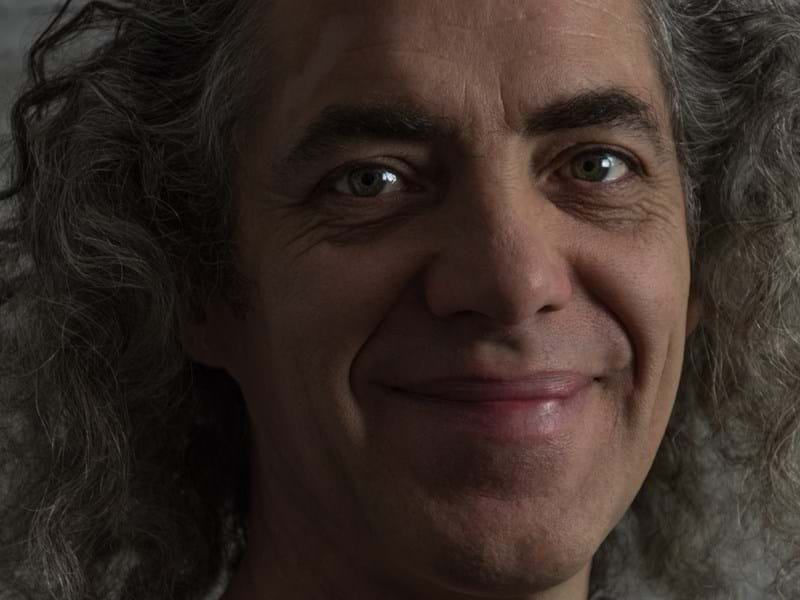 Tell us about the rather interesting book and project you have been involved with where you bare all...
The book is called Manhood and is a piece of art produced by Laura Dodsworth, 100 photographs of men's penises and their relationship with masculinity. I have a poem at the start of the book and I am one of the hundred men. Laura had produced a book called Bare Reality which is 100 photographs of women's breasts and their relationship with their breasts/femininity, Manhood is the follow up. I was included in the search for participants because of my connection with Ant Smith who is constantly fighting for good truths to be shouted, like being #BodyPositive. He penned a piece about his penis which by societies statitistics is small, from that big things grew, including The Big Small Penis Party and The Small Penis Bible, I was compere, doorman and performer at the Party and encouraged him in every aspect of his work to champion being confident in who you are.
Favourite place in Wandsworth?
Right now, it's Wandsworth Oasis charity shop where I volunteer a few times a week. We've just moved into a new space, so everyone's busy trying to make the best of everything. The money they raise goes to help people living with HIV.
Pet hate and I don't mean animals...
I have a few pet hates but they are the same as many other peoples… Adults not moving out of the way for people to get off something you want to get on to, the sheer stupidity of trying to get in the space I'm in… The people who make you sit on the inside seat then don't get off before you, they know that I hate them because I bash their knees on the way back passed. Also, those that don't say thank you for something you've obviously only done for their benefit.
You are heavily involved with open Mike nights in our community, tell us more about what you do and how other people can get involved. 
I love open mic nights, I am addicted to them. They are usually fun, occasionally difficult but they always have moments of beauty. I host 2 regular nights: On Tuesdays at The Magic Garden on Battersea Park Road is Sing For Your Supper, a community minded event I've been running for 8 years in different venues but I hope we never have to leave where we are now. The sound is excellent thanks to Matty, the food is lovely, thanks to the chefs and the support is constant, thanks to Connor and his team. Arlo is the reason it goes on though, he's a great man who loves live performance. Turn up at 6:30/7:00 to get on THE LIST, 3 songs or tunes, 8-12 mins for poetry or comedy, everyone who performs gets food and a drink. Wednesdays at The Bread & Roses on Clapham Manor Street is another open mic, sometimes we're in the front bar, others we're in the back room, both are excellent for sound and both have a great feeling, very different but always good. Sign up for that one is 7:30/8;00 same rules apply. You can do covers, originals, comedy, poetry, story telling, magic tricks, we've had dancers…
Happy Hour until 7.30pm. Open Mic from 8pm. All musicians & spoken word artists welcome @calmcarl & serving food until 9.30pm @chopandchip pic.twitter.com/rFnQvEfuWy

— The Bread and Roses (@breadrosespub) August 30, 2017
Can you tell us a good joke?
A young polar bear goes up to his dad and says "Daddy? Am I really a polar bear?" His dad says "Of course you are, I'm a polar bear, Mummy's a polar bear, you've got white fur, little black nose, we live in the Arctic, go on, go and play." He plays for a while then he swims over to his mother and asks "Mummy, am I really a polar bear?" His mum says "Of course you're a polar bear, I'm a polar bear, Daddy's a polar bear, you've got white fur, little black nose, we live in the Arctic, go on, go and play!" He plays for a while before walking over to his Aunt and asking "Auntie, am I really a polar bear?" His Aunt says "You've asked your mum and your dad, why do you keep asking?" The young bear says well I know Mummy's a polar bear and Daddy's a polar bear, I've got white fur, little black nose, we live in the Arctic but I'm freezing!"
What are your Wandsworth Radio shows about and why should we listen?
Well, I'm fortunate to have 2 shows, one from Noon til 2pm on Wednesdays and that tends to be playing the playlist and making inane links with the music and interviews with people I know who are doing exciting things or musicians who have a new song coming up or a gig they're keen for people to know about. I do 3 songs in a row from people I've met in the real world and got on with. So you should listen because our playlist is always getting better and you never know who might be a guest. I don't talk much if I'm on my own but I'm trying to get better at that. The Monday Club on… Mondays 10pm-midnight is a show my wife Sarah and I present. We play mostly music from people we've met, Sarah has a folk background so a lot of what she chooses is from the world of folk, not all but a fair bit and my choices are from festival bands and people who've performed at the open mics I run or visit plus of course our all time favourite tracks because we can! I say it's like going into a strange pub and there are no names on the jukebox so you never quite know what you're going to get. I work it that I'm sharing my community with Wandsworth community.
Favourite artist out in the local scene at the moment?
It's hard to do that as I see so many live acts. I'm impressed with Potent Whisper, Sample Answer, Hungry and The Hunted, Blues Bentley, Tugboat Captain, those are a few that hold the title locally but my list is endless…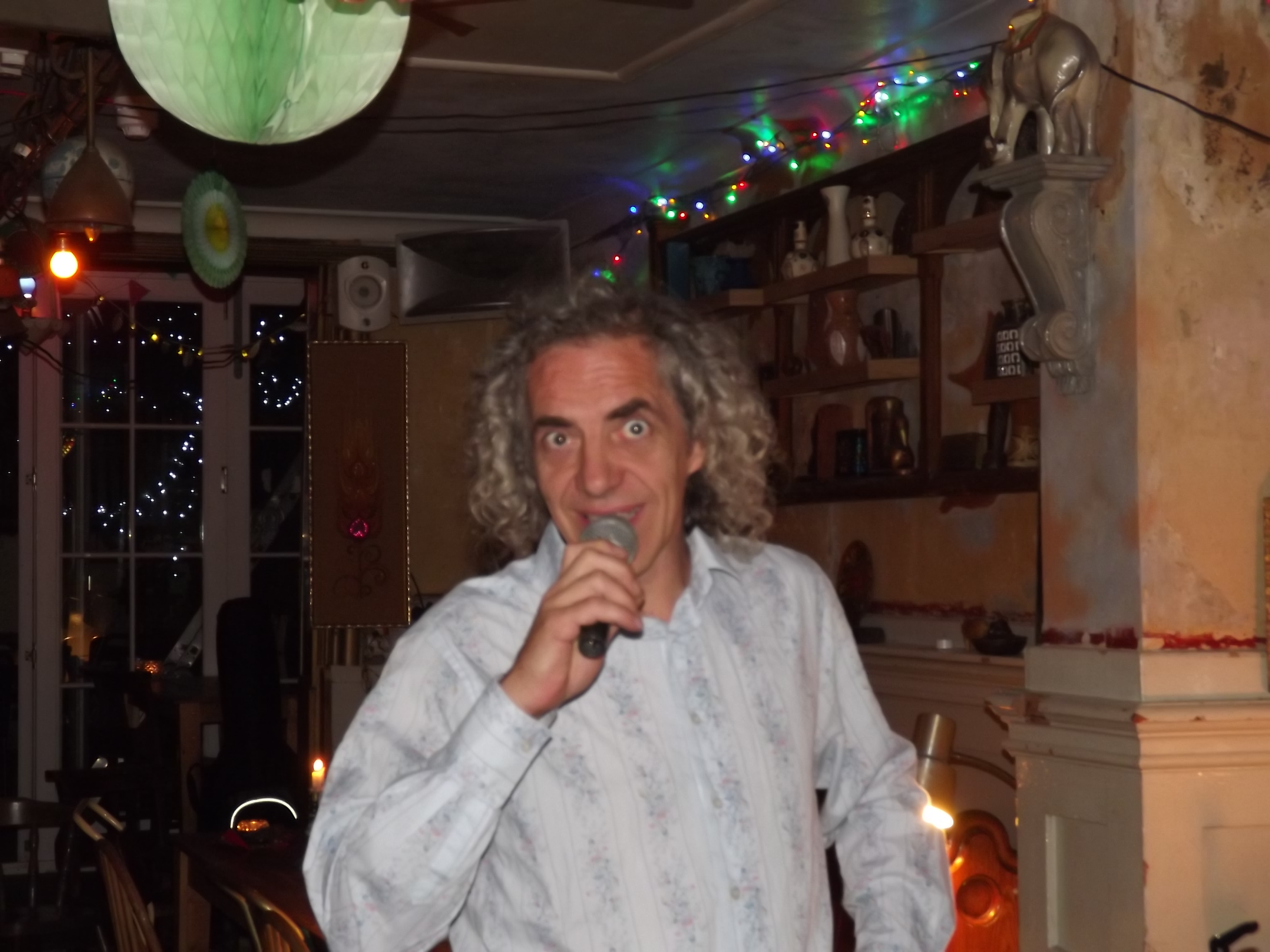 This is a (rather dubious) little game I like to play, similar to Marry Date Avoid/Kill, but with a twist. You have 3 scenarios and 3 people, one is have a little sing song in karaoke, the other is share a bottle of Fine Malt with and thirdly, force them to clean your home. Your people are Little Mix, Barrack Obama and Sponge Bob Square Pants - please allocate accordingly.
Little Mix to clean, they've got energy, fine malt with Sponge Bob Square Pants, I reckon he's got some good stories to tell, Barrack Obama for karaoke, I've heard him sing, I can hide behind his excellence.
Are you a Chocolate biscuit or Ginger biscuit kind of man?
Chocolate biscuit sandwiching a ginger biscuit kind of man.
If you can give one piece of advice to anyone and everyone, what would it be? 
Always try to make it easier for the next person.
Before we go, what the most exciting event you've got coming up in your diary? 
I'm very frightened/excited about October 19th at Battersea Arts Centre where I'll be performing in part of a scratch night. I'm hoping to use my poetry to create a piece that encourages creativity as a release from depression and mental health issues.
I'm performing as part of World Mental Health Day (week) at The Turner Contemporary in Margate on the 15th October as a poet.
On the 14th October as part of Oxjam Islington I've gathered 10 poets together (I'm one) and we're going to take over the King's Head Theatre Pub from 7-10pm to do Voxjam, no stage, poets dotted around the pub and 3 radio mics. I'll introduce the poets by name and they'll perform for 5 minutes then the 'baton' will be taken up by another poet from another part of the pub. I organised it last year and it went well but we were in a tiny basement area of a bar that had loud music, this will be the real test!
I play football for Brixton Pumas who play in the South London Grassroots League, the teams are made up of people that have a diagnosed mental health issue when I joined mine was depression, our team has won the league the last 2 seasons and I've been voted Player of The Season twice and am the Captain. I've been playing for them for 2 seasons.
Keep in touch with Carl by following him on Twitter @CalmCarl.