Amanda St John - A Blues Powerhouse and one not to miss.
Hazel Butterfield
24 May 2017
I first came across Amanda St John at Blues on the Farm Festival last year as we imparted life experience, 'joie de vivre' and silliness over G & T's (is there any better way?). Sometime you come across people that just make an evening, the banter just flows and it feels like you've been friends for ages. This is Amanda. This same happens when she sings and Jeez can she sing...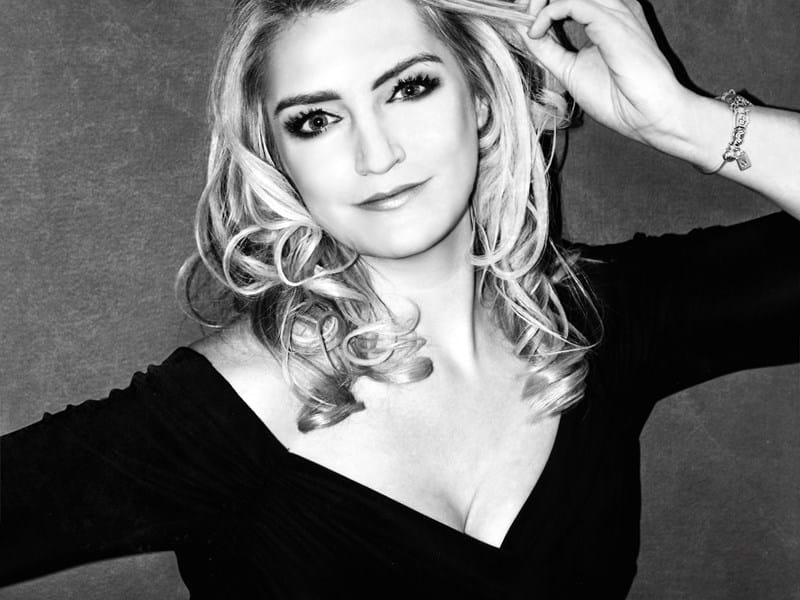 I managed to catch up with her earlier this week for a quick Q & A. So here goes - 
HB: What is the highlight of your singing career so far?
ASJ: Recording and writing in Nashville with a host of writers including Grammy winner Benita Hill (Garth Brooks, Crystal Gayle etc) and Grammy Winning Producer/Writer Jon Tiven (BB King, Wilson Pickett, Rolling Stones etc). I was so grateful to get the opportunity to work with them and am happy we were able to create music together. 2 of the songs that I wrote with Jon Tiven appear on my debut album 'Grow'.
HB: Gin or Prosecco?
ASJ: Both!!!! These are my 2 absolute favs! I'd probably start on Prosecco and then move onto Gin though.
HB: What's your favourite venue played at so far? 
ASJ: I played an intimate acoustic set in St Anne's Cathedral in Belfast and that was pretty special. The atmosphere and acoustics were so lovely.
HB: I know from meeting you at Blues on the farm that you are no shrinking violet, nor do you suffer fools gladly. You've got fire in your belly, which I love. What do you think is your biggest motivation?
ASJ: My biggest motivation is to be true to myself and to who I know myself to be. I love to create, I love to connect with others through music (both fellow musicians and the audience) and that brings such freedom of expression and joy. I spent the best part of the 20's trying to conform to expectations and be something else, but it's only since I had a near death experience in a car accident (about 6 years ago) that I've embraced music as my life and since doing that I feel truly happy. I want to look back and feel proud that I did the best with my opportunities instead of wasting them.
Amanda at Whispering Bob Harris' 'Under The Apple Tree' Live session.
HB: What is your favourite song off your album and why?
ASJ: Grow is probably the most personal and autobiographic of them all and I love the way that other people connect to this song. The lyrics are about me fighting back from a negative experience and vowing to learn and grow from the situation rather than being broken or defined by it. Every time I perform it live there are tears in the audience as we all experience our own struggles at some stage. This is my favourite part of songwriting when a song resonates with another person and brings clarity or healing.
HB: You may be aware of my slightly pimped up version of Marry, Date, Avoid. Here is my specially tailored version for you... You're in a room with Ed Sheeran, Louie Walsh and a Beagle; Who do you choose to share a pizza with, spend a night 'out out' with and volunteer to do Tougher Mudder (in a tutu)?
ASJ: I'd chose to do a night 'Out Out' with Ed Sheeran, have a laugh, a few drinks and a good old jamming session on the guitars.
I'd share my pizza with the Beagal and Louie Walsh would just have to do the Tougher Mudder challenge. I can't see myself wanting to sit down and chat with him so seeing him mucky and running in a tutu would be highly entertaining!
HB: If you weren't a singer what would you like to be?
ASJ: I still work a little on a freelance and volunteer basis working with youth groups, charities and people who are long term employed as a personal development/employability mentor and singing/songwriting coach. I love this work as it is so rewarding to pass on skills and experience and encourage others to live their dreams. If I wasn't singing I'd probably be doing that full time.
HB: Who is your favourite singer (& song) of all time?
ASJ: Joni Mitchell is one of my favourites (there are so many that I admire and learn from). I just adore her alternative melodies as well as the emotion and character in her voice. Her song 'Both Sides Now' is so insightful, it moves me every time I hear it.
HB: What do you consider to be the 3 best characteristics in a human being?
ASJ: Kindness, integrity and gratitude. If we could all be a little more like this I feel that the world would be a very different place.
Make sure you catch Amanda St John on one of her tour dates, book here:

More details, social media links and further info can be found at www.amandastjohnmusic.co.uk and Listen & Buy here.
A snippet of our interview at Blues On The Farm 2016