E-Biking in Val Gardena
Hazel Butterfield
30 June 2017
This was my first time in Val Gardena but I'm certain it wont be the last. With 300 days a year of sunshine, happy and helpful locals, the most incredible food, activities for all requirements and abilities. Oh and the scenery, wow...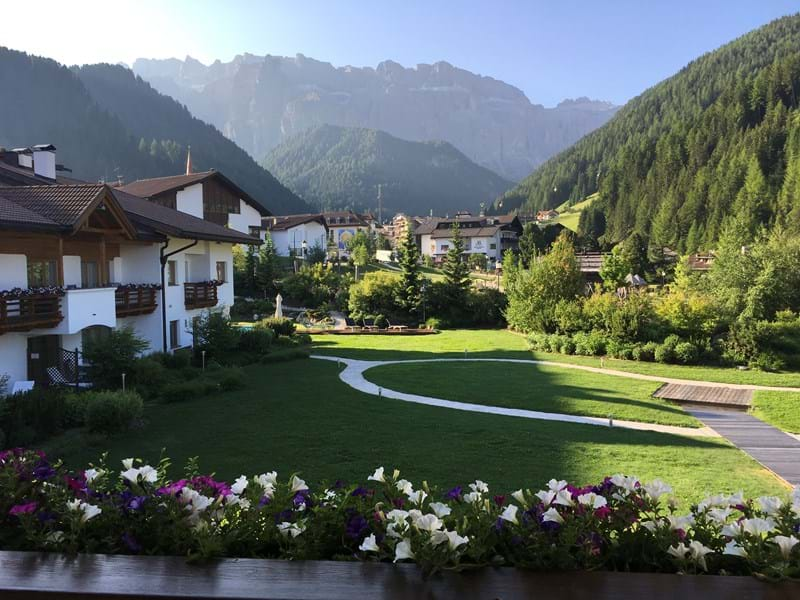 Our trip started out at our hotel, Hotel Gran Baita, with their signature cocktail, the 'Hugo', as we got to know the rest of our team for our E-Biking tour e-powered by Bosc, where we also got to find out a bit more about this deliciously beautiful part of the Dolomites. The villages of Santa Christina, Selva and Ortesei make up this region with altitude levels ranging between 1236m-1563m. While it's landmark, Sassolungo towers above at an impressive 3181m. There are 3 main languages used here; Italian, German and Ladin. One of the few areas still keeping Ladin alive.
We start the next day nice and early for our intro to our bikes and we embark on our 40k 'warm-up' session through the mountains. E-Biking is a first for me, I was very keen to get cracking and I was not disappointed. A fabulous mixture of a workout surrounded by the most breathtaking surroundings. All of which would be impossible without the E-Bike. I'm not unfit, but those mountainous hills and terrain would be untenable without the propulsion provided by the motor. You have a choice of help ranging from Eco/Tour/Sport & Turbo, dependant on what you see fit! Choose wisely as you don't want to run out of juice on the especially challenging gradients!
Do not get me wrong, it is still hard work. But the areas that would have been unreachable (unless you are one of those crazy cyclists who see an 'IronMan' as a fun short workout), provide you with the ability to see vista's that should not be missed and no longer need to be. Trust me, Instagram will get a hammering.
But then, throw into the mix the lunch destinations en-route. Lunch during our first full day was at Val D'Anna and was truly surpassing any visions of a pretty mountainous pit stop location. Stop for food, a refreshing drinkie, paddle, sunbathe or let the kids let off some steam.
Followed by dessert 10k later at Maso Paratoni. An unassuming location that provide us with incredible Frittelle di Miele and coffee ice-cream followed by their speciality, a selection of their homemade Grappa (A Grappa stop is always recommended). Then we very wisely travel a direct route back to the Village and leave our bikes to be charged ready for the next day. Time to enjoy the hotel's facilities (of which they are everything you could need) before dinner in their restaurant where the views equal the delicious food.
The next day we get to experience what the warm-up was all about, the Sellaronda. A 70k route that covers four mountain passes and rewards all your effort with spectacular views. On special event days, the roads are closed to general traffic to ensure a better ride experience between 8.30am-3.30pm.
Towards the end of our cycle we stop off at Chalet Gerard for a spot of lunch and the most incredible Amaretto Parfait, including a glass of celebratory wine to mark our achievement (it would be rude not to). The journey back to Selva is all down hill, we part with our bikes then go and enjoy the hotel's spa.
Hotel Gran Baita
The Spa is set in the most idyllic location, with both indoor and outdoor pools, separated by a nifty little automatic swim through door for an easy transition, including sauna's and jacuzzi's, with an excellent outdoor lounging space for the afternoon sun after earning your relaxation in the mountains. The Hotel also offers dog friendly and varied accommodation for all requirements.
Other activities available are; Hiking for all levels of fitness dolomitesalpine.it, Climbing/Bouldering colderflam.com, Hang Gliding www.fly2.com and Slack-lining. The kids facilities at most places we passed or visited were unique and adventurous not to mention to kids E-Biking... For further details on their Kids active program go to valgardena-active.com.
For further details of biking events in the unmmistakably awe-inspiring burning Dolomites see Mtb-dolomites.com
A few notes for this trip:
* Remember that the brakes are opposite!
* This will not be a romantic getaway if you're not used to hard saddles.
* The weather in the mountains can be extremely interchangeable, so pack for all occasions.
* I also highly recommend the Endura Luminate Cycle Helmet.
Getting there:
Flights with EasyJet, Gatwick to Verona from £30.99. 
Transfers


The Mountains are calling...