Aruba, Jamaica, ooh I wanna take you to ya....
Hazel Butterfield
09 June 2016
I love this place, I've always wanted to give it a whirl and it failed to disappoint. But let's assess the best bits and the the very few negatives.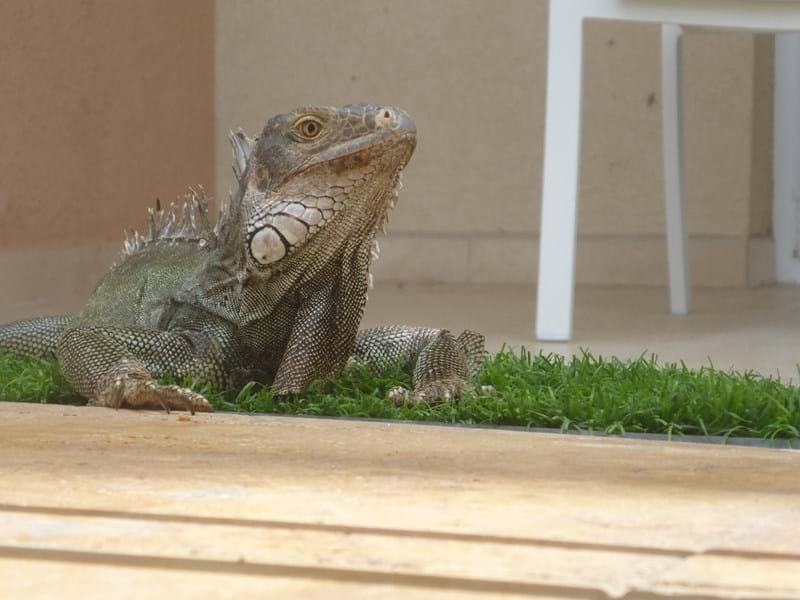 Aruba, on the corner of the Caribbean termed the 'Dutch Caribbean' just off the edge of Venezuela. It's a 9-10 hour flight dependant on the tailwind from the UK and a delightful 15 minute transfer to most of the hotels. Perfect for when travelling with the kids.
You cannot avoid the unmistakable and simple fact that the weather is perfect. It's a stable 32C with the odd bit of cloud and sporadic wind. All of which is gratefully received if not a tad disconcerting in terms of assessing your burn/tan factor. I'm a well seasoned traveller and yet I still burnt my knockers.
So, where did we stay? There's a fantastic choice of places on the island and we went for The Divi All Inclusive and I'm quite happy we made the right decision. It's one of the low rise hotels that also shares usage with another hotel 2 mins down the beach, meaning you could use their restaurants and facilities too. The sister hotel was The Tamarijn, which is great for a quick restaurant visit, but a it's tired and 'glows' in the dark, it had an air of '18-30's' about it. The rooms we had were a tad musky but we had our Connie Gray candles (yes, I've turned into one of those people), this made our room smell just the way we needed it to ignore the dodgy vibe. However, all in all, we chose well. The place that appeared a tad dubious at first, proved to be a genius choice on my part (yes I'm baised). As standard as the food looked at times, it was all lush. The variety, better than foreseen and unique - Avocado Ice-Cream anyone? But most importantly, the grog was cracking, champagne on tap (not literally) and a lot of branded spirits. Hic.
I also managed to get a birds-eye view of all of the hotels during a helicopter trip and as impressive as the high rise hotels such as the Riu Palace looked on paper, in reality there was no charm, cramped pool-sides and being able to walk out of your room to a pool or the beach in seconds suits me more.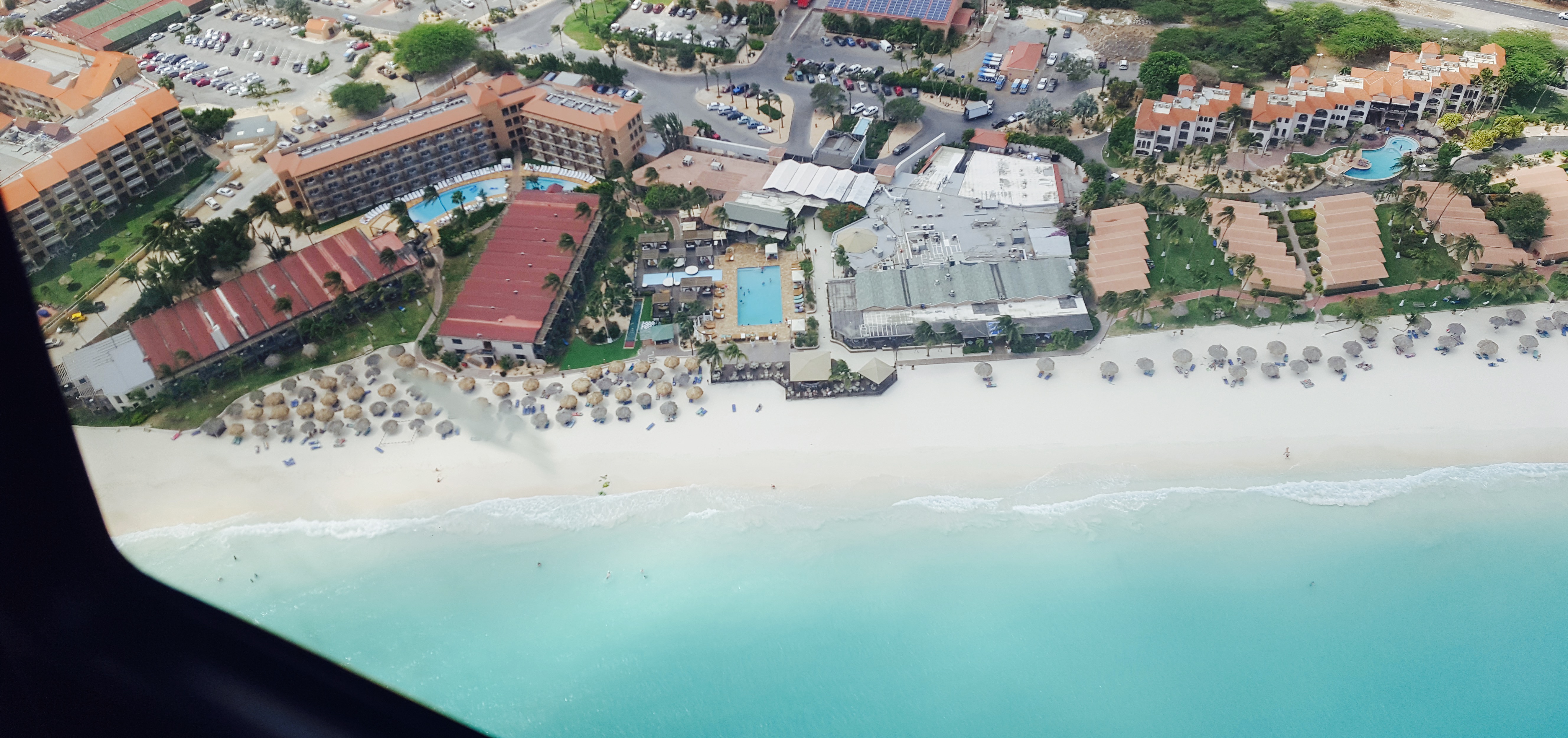 But that does lead me on to the trips. A helicopter ride is expensive but incredible and you wouldn't regret it. A choice of half the island or full, taking 15 and 30 mins respectively. The kids enjoyed the rollercoaster tricks that the pilot did and we were taken to the Lighthouse, a shipwreck, to sneak a peek at the homes of Aruba's elite and not to mention spotting the best beaches. What we saw in 15 mins meant we had cut out the need for long trips, (if they're not your thing). The pilot was entertaining and he's considering getting a camera in the cockpit, my son's commentary uploaded to YouTube would evidently have sealed his retirement! Never a dull moment.
The Renaissance Island is fabulous and yet a tad 'up itself' not to mention under the flight path. Catch it on a non wedding day, if you can.
Then you mustn't miss a trip to Eagle Beach, named one of the World's Top 10 beaches. Look, look, look...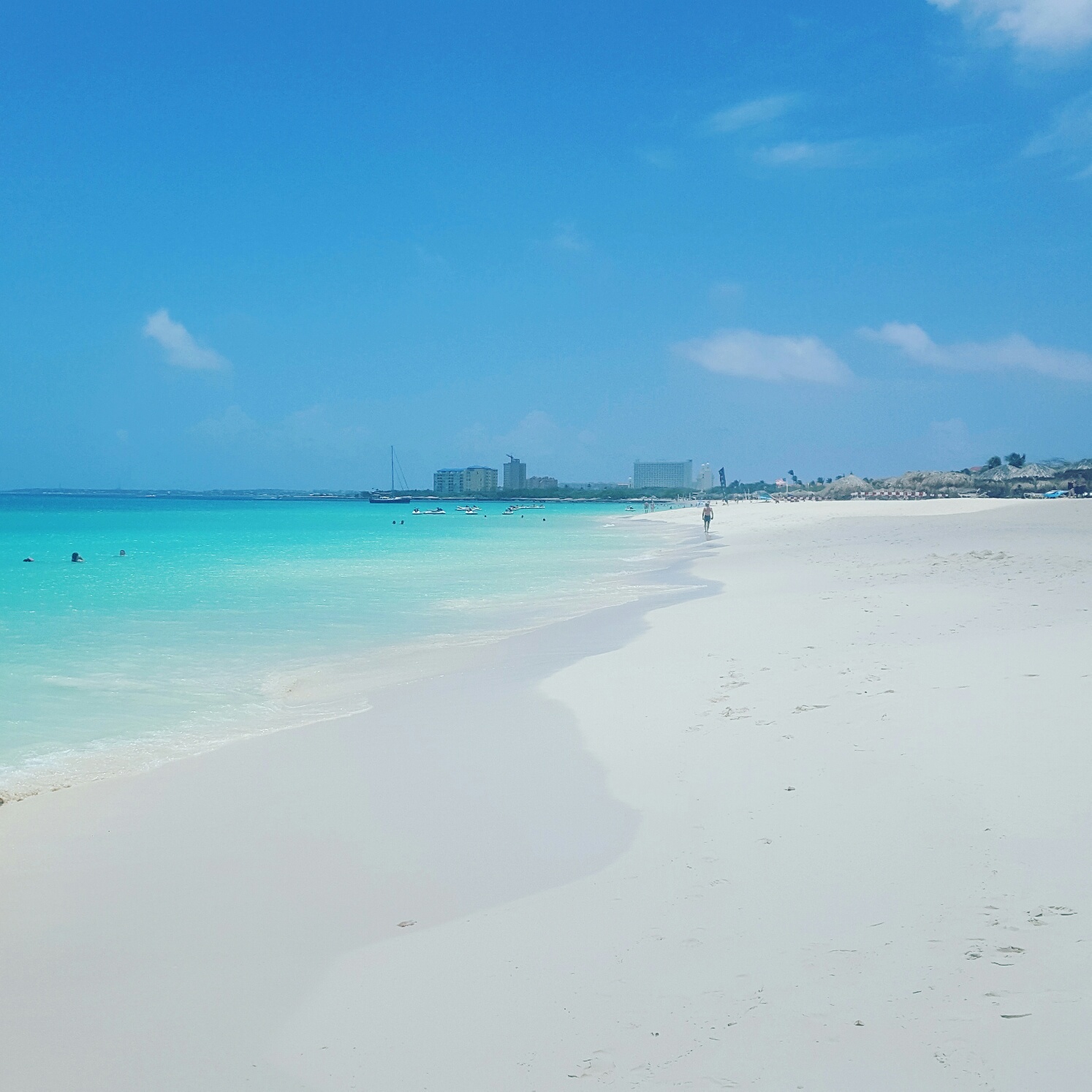 Here you can partake in the usual motorised water sports, get the perfect Instagram or do nothing. Absolutely nothing.
Other than that you are spoilt for choice, Jeep Adventures, a Children's Park (zip lines, slides, snorkelling, the lot), Catamaran Tours, etc. Be warned, nothing is cheap here, trip wise. Expect to pay $100 a head for most things.
Now, no trip to Aruba can be discussed without mentioning the Iguanas. They are all over the place, from the baby ones at a cute 1ft, to great big 3-4ft long masters of the poolside, the Dons. I love it that you just get used to walking among them around the pool, begging for food likes dogs. It's unreal! Keep your patio doors shut, as they will go in.
There was a downside, but it wasn't specific to Aruba. A delightful group of 40+ chavs who drank so much on the plane they required medical assistance, the pilot was forced to make an announcement to tell them to pack it in and spot abusing other passengers and staff. Not cool. At least if I'm off my nut on a plane, I get happy then fall asleep, occasionally prodding man-thing in the head for attention. Not shouting effing this and c-ing that across the plane in front of kids. What a bunch of 'sugar' heads. Luckily they were in one of the high rises, well, lucky for us, not for the other families going there. From what I gather, their beach volleyball got quite 'blue'.

However, all in all, 7 days is too short on Aruba. It flew by, none of us were ready to leave. It really did tick so many boxes, great people, food, wildlife, the ocean was the best I've seen (and I'm not a stranger to holidays!), cocktails, shopping and activities. Did I mention that their smallish main town has every designer you'll need and even a Starbucks with a water taxi stand?

One thing I have learnt is that I will *(probably) never go with Thomson's again. The staff onboard and on location are excellent, it's just everything else. Don't get me wrong, the holiday was amazing, but they'd pissed me off before I'd even set off. Be warned, whatever you pay, you will HAVE to pay more for your seat.  
For some excellent bikini bling, I loved these...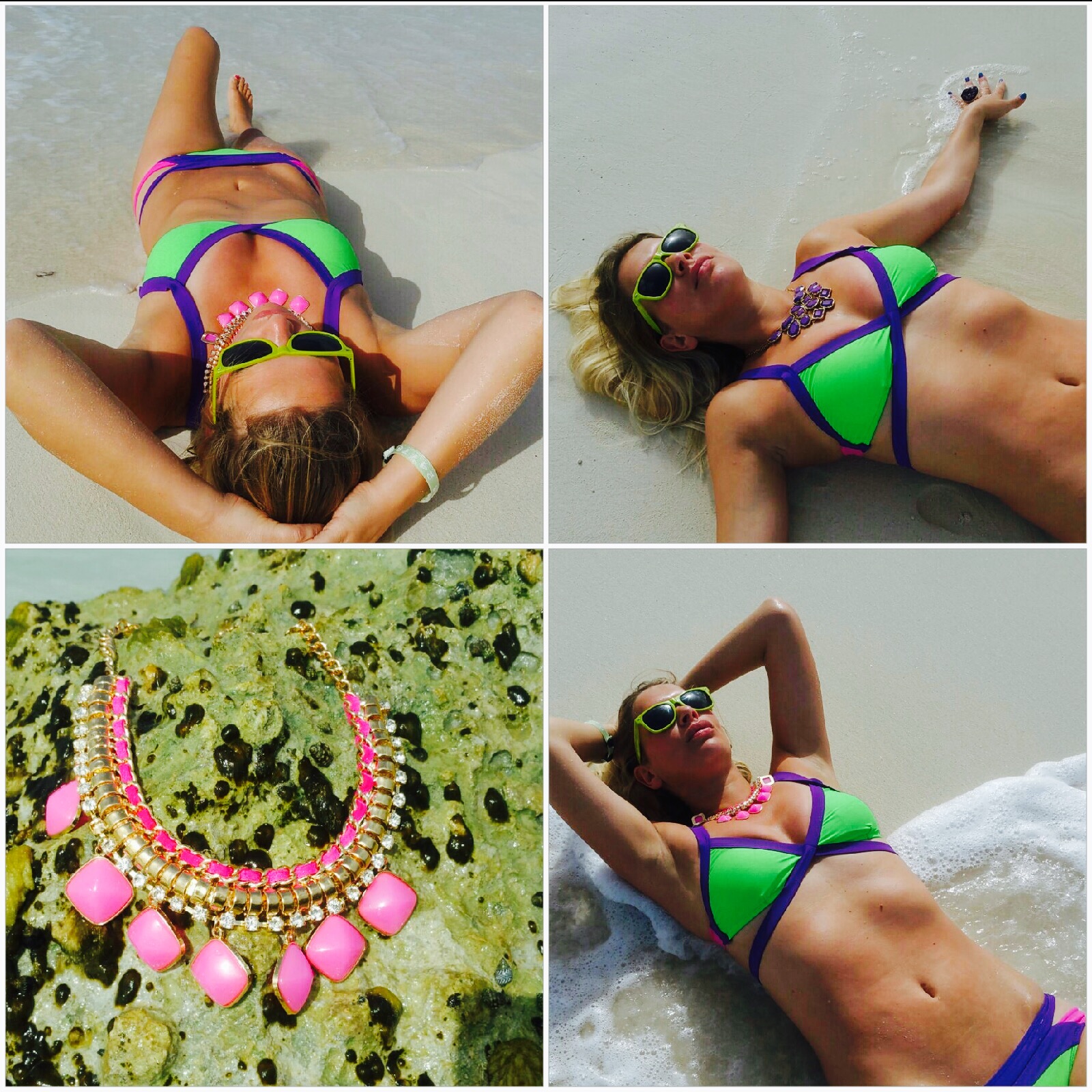 Get them at belindashandbagsandaccessories.co.uk
The song we couldn't get out if our heads (as above) was Kokomo by the Beach Boys. If you ever go, you will need this info.

*coming back to Blighty and having rain may mean I need to book my next trip and the place in Mexico I fancy only has direct flights via Thomson's. Oh #&@%...